Gainesville Insurance Agent
Your Local GEICO Insurance Agent In Gainesville
Click the agent name or photo for more information.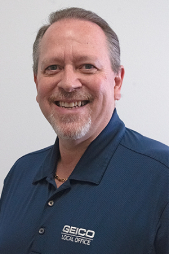 3080 SW Archer Road, Suite 10
Gainesville, FL 32608
Your Gainesville GEICO Insurance Agent is here to serve you.
Your Gainesville GEICO Insurance Agent can help you with affordable insurance rates and exceptional local service, whether you're looking to insure your car, motorcycle, boat, RV, or more. Plus, GEICO could help you save even more with great discounts for Military and federal personnel, and members of many professional, educational, medical, fraternity and sorority organizations.
Nuestro agente de seguro en Gainesville habla español. El te daráun servicio personalizado y te podría ayudar a encontrar una excelente cobertura a buen precio. ¡No dudes en contactarlo hoy!
Consult your Gainesville GEICO Insurance Agent for a free rate quote today.
Ken Castellani is on Archer Road.