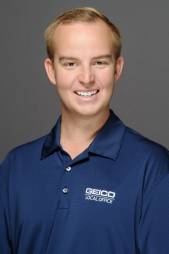 Meet Zachary Ingram, your local GEICO insurance agent.
Hi! My name is Zachary Ingram, and I've been a Florida resident for over 25 years. I started working at my family's local GEICO office when I was 16 years old, and I quickly fell in love with the insurance industry. I am thrilled to open my own office in Apopka and serve my community.
Learn about Zachary Ingram, your GEICO insurance agent in Apopka, Florida.
I love providing expert advice and helping customers find the right products for their insurance needs. I believe insurance agents are trusted with some of the most important decisions in a person's life: protecting their cars, homes, valuables, finances, and lifestyle. My team and I work hard to help give our clients peace of mind when deciding on their policies.
When I'm not in the office, I enjoy spending time with my family, boating, fishing, reading, and running. I love spending a day out on the water, whether it be jet skiing, fishing for bass, or hanging out at the local springs. I also love to ride roller coasters, go mountain biking, and ski in the wintertime.
Zachary Ingram understands more than just insurance in Apopka.
Our expertise doesn't stop with car insurance. Do you own a boat or personal watercraft? Make sure you have the right coverage before you head out on Lake Apopka! We can help! Do you spend time at Wekiwa Springs State Park? Ask us how we can help insure your RV! We can also help bundle your auto coverage with renters insurance through the GEICO Insurance Agency - so don't forget to ask us about GEICO's Multi-Policy discount.
Zachary Ingram and his team are involved in the Apopka community.
My team and I love attending local events, including the Mount Dora Art Stroll and Winter Park Sidewalk Art Festival. We also like to visit the Apopka Farmers Market. I personally work with the Apopka Area Chamber of Commerce and the Seminole County Chamber of Commerce.
Zachary Ingram is here for you in Apopka, Florida!
Contact Us
We're here for you 24 hours a day, 7 days a week. The quickest way to contact us is through our app or online. You can also ring us by phone.
Office Hours
Please call or email your local GEICO Office to learn more as office hours may vary.
Monday: 9:00 AM - 7:00 PM
Tuesday: 9:00 AM - 7:00 PM
Wednesday: 9:00 AM - 7:00 PM
Thursday: 9:00 AM - 7:00 PM
Friday: 9:00 AM - 7:00 PM
Saturday: 9:00 AM - 5:30 PM
Sunday: Closed