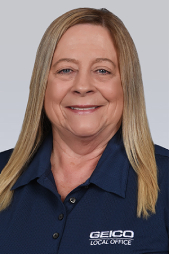 Jennifer Koppel is your Panama City insurance agent.
Hello, my name is Jennifer Koppel, and I have been serving Panama City as your GEICO Insurance Agent since 1988. I have been in the insurance field for over 40 years. I have lived in Panama City since 1979, so I know this area well. I can provide the personal service you want and help you protect the things that are important to you.
I am active in the community as a member of the Bay County Chamber of Commerce, the Panama City Beach Chamber of Commerce, and the Better Business Bureau of Panama City. I also serve on the Military Affairs Committee at the Bay County Chamber of Commerce. In 1991 to 1992, I received the Insurance Woman of the Year and the Ira Lee Hatcher Award for Excellence with the Insurance Women of Panama City. I also served as Vice President, Corresponding Secretary, Recording Secretary as well as serving on various committees with the Insurance Women of Panama City.
Your Panama City office is here to help you.
My office specializes in personal lines insurance. In addition to auto insurance, we also write boat insurance to take care of our many boat owners who cruise the beautiful Gulf of Mexico and the many lovely lakes nearby. Ask about the other insurance products we can help you with, like condo, renters, motorcycle, RV, antique auto, umbrella and an identity protection plan. We can often help you find additional discounts to save you even more!
Jennifer's office proudly supports our Military.
Tyndall Air Force Base is located in Panama City, and the Naval Coastal System Center is located in Panama City Beach. I can help provide specialized insurance for the Military and find discounts for Military and federal employees. I also attend and give awards at Tyndall's Quarterly and Annual Award Ceremonies and the Tyndall NCO Academy's Graduations, where 25 Distinguished Graduates are honored at each ceremony.
Spot Jennifer's team around Panama City.
You can almost always find the GEICO Insurance Agent tent at Thunder Beach in the spring and fall. At other times, you can find us at Friday Fest downtown, Zoo Boo at the Zoo, Springfield Founders Day, the Beaches, Apalachicola Seafood Festival, Renegade Car Show, Golf Tournaments, Poker Runs, and at many other events around Panama City. We also participate in the Bikers for Kids Toy Run and the Gulf Coast Salute at Tyndall.
Here's how to find the Panama City office.
We are conveniently located on Tyndall Parkway, between Transmitter Road and Highway 22. We have recently remodeled our office and doubled our size, so come check out the great new space!
Office Hours
Please call or email your local GEICO Office to learn more as office hours may vary.
Monday: 9:00 AM - 5:00 PM
Tuesday: 9:00 AM - 5:00 PM
Wednesday: 9:00 AM - 5:00 PM
Thursday: 9:00 AM - 5:00 PM
Friday: 9:00 AM - 5:00 PM
Saturday: 10:00 AM - 12:00 PM
Sunday: Closed