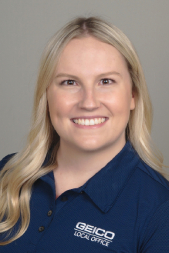 Meet Caroline Sprague, your local GEICO insurance agent.
Hi! My name is Caroline Sprague. I was born and raised in Palm Beach County. I have worked in the area since I was 16 years old and gained both my undergraduate and graduate degrees from Florida Atlantic University.
My family has been in the insurance industry since my grandparents started an insurance agency in the Palm Beach area in 1962. I grew up watching both my grandparents and my father help their customers. Since then, I wanted to be in the family business.
Learn about Caroline Sprague, your GEICO insurance agent in Boynton Beach, Florida.
As an insurance agent, I'm driven by the opportunity to help educate customers on their insurance needs and help save them money along the way. I love helping my customers find which coverage will help protect what they value most. I also pride myself and my team on providing excellent customer service.
In my free time, I enjoy boating, fishing, and being outdoors. I also love camping in the Florida Everglades and the Florida Keys. But, the best part of my outdoor adventures, whether it's on a boat or camping, is spending time with my family.
I also like to attend Florida Atlantic University sporting events and the Florida Panthers games.
Caroline Sprague understands more than just insurance in Boynton Beach.
Our expertise doesn't stop with car insurance. We also can help insure your motorcycle! Do you own a boat or personal watercraft? Make sure you have the right coverage before you head out the Boynton Beach Inlet to the Atlantic Ocean or visit Lake Okeechobee! If you like to camp at John Prince Park, Jonathan Dickinson State Park, or Lake Okeechobee, ask us how we can help insure your RV, too. We can also help bundle your auto coverage with renters insurance through the GEICO Insurance Agency - so don't forget to ask us about GEICO's Multi-Policy discount.
Caroline Sprague and her team are involved in the Boynton Beach community.
My team and I love attending local events, including the Boynton Beach Haunted Pirate Fest and Mermaid Splash, the International Kinetic Art Exhibit and Symposium, and the Boynton Beach and Delray Beach Holiday Boat Parades.
Caroline Sprague is here for you in Boynton Beach, Florida!
Office Hours
Please call or email your local GEICO Office to learn more as office hours may vary.
Monday: 9:00 AM - 7:00 PM
Tuesday: 9:00 AM - 7:00 PM
Wednesday: 9:00 AM - 7:00 PM
Thursday: 9:00 AM - 7:00 PM
Friday: 9:00 AM - 7:00 PM
Saturday: 9:00 AM - 6:00 PM
Sunday: Closed