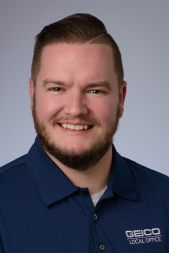 Meet Daniel Edwards, your local GEICO insurance agent.
Hi, my name is Daniel Edwards! I've lived in the Ohio River Valley area for 15 years. The people of Evansville are hard workers. I'm not only proud to provide them with the insurance they need in a hassle-free way, but I'm honored to help them save their hard-earned money.
Learn about Daniel Edwards, your GEICO insurance agent in Evansville, Indiana.
I love to ski! I've gone down the slopes in several states. When the weather's right, I like to visit Snowshoe, WV. When I can't make it there, you can catch me at a small local slope called Paoli Peaks. I'm also an avid reader, reading about 40 books per year. My family loves going to Holiday World in nearby Santa Claus, IN. I also enjoy attending Fall Festival, local high school football games, and Otters baseball games.
Daniel Edwards understands more than just insurance in Evansville.
GEICO has such great offerings to protect your weekend toy, whether that's an RV, boat, ATV, or motorcycle! Make sure you've got the right coverage before visiting the Hoosier National Forest or heading out on the Ohio River, Patoka Lake, Kentucky Dam, or Rend Lake. We can help. Want even more savings? You could bundle your car and homeowners insurance. Contact us to learn more about GEICO's Multi-Policy Discount!
Daniel Edwards and his team are involved in the Evansville community.
Although camping and boating are the two most popular activities in the area, there are lots of other local events going on throughout the year. Some of our favorite events include Fantasy of Lights, Evansville Half Marathon, the West Side Nut Club Fall Festival, Owensboro BBQ Fest, River Run, University of Evansville Basketball, Otters Baseball, and Thunderbolts Hockey. On weekends, there's plenty of live music and events at the new riverfront playgrounds and parks in Evansville and Owensboro.
Personally, I work with the Southwest Indiana Chamber of Commerce and am a long-time member of the Lions Club. I've also participated and volunteered at several fundraising runs, organized the Chandler 8k, hosted multiple Red Cross Blood Drives, spoken at the Evansville Rescue Mission, and helped build a playground at Chandler Park.
Daniel Edwards is here for you in Evansville, Indiana!
Office Hours
Please call or email your local GEICO Office to learn more as office hours may vary.
Monday: 9:00 AM - 7:00 PM
Tuesday: 9:00 AM - 7:00 PM
Wednesday: 9:00 AM - 7:00 PM
Thursday: 9:00 AM - 7:00 PM
Friday: 9:00 AM - 7:00 PM
Saturday: 9:00 AM - 7:00 PM
Sunday: Closed