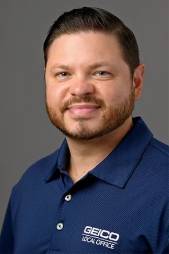 Learn more about your Lexington insurance agent.
Hello, my name is David Saab and I am excited to be serving the Lexington, KY area as your GEICO Insurance Agent. With over seven years of experience as a licensed GEICO Insurance Agent, I'm looking forward to helping you find coverage that best fits your insurance needs. Everyone knows GEICO offers great rates on auto insurance, but our office can also help you with homeowners, renters, motorcycle, boat, and much more. You can even ask us about our affordable identity theft protection coverage. My office of trained professional agents looks forward to helping you with all of your insurance needs.
We're ready to answer any questions regarding your current policy (or one that you have in mind) and to see how much money we can save you with a Multi-Policy Discount. We understand the needs of Military members and government employees as well, which is why we've made it our mission to provide numerous discounts and overseas coverage to suit those lifestyles on top of the great coverage and great rates GEICO is known for.
David is involved in the Lexington community.
As both a GEICO Insurance Agent and a resident of Lexington, I enjoy being a part of the local community. I am a supporter of Kentucky athletics and a member of the Lexington Chamber of Commerce. We are always eager to get out in the community and attend events around the area, so be sure to drop by the GEICO Local Office tent when you see us!
Find the Lexington Office
Our office is located in Todd's Center at 3100 Old Todds Rd (right off of Man O' War Blvd) in Lexington. We hope to hear from you soon, so that we can provide you with all of the savings that you deserve!
Office Hours
Please call or email your local GEICO Office to learn more as office hours may vary.
Monday: 9:00 AM - 6:00 PM
Tuesday: 9:00 AM - 6:00 PM
Wednesday: 9:00 AM - 6:00 PM
Thursday: 9:00 AM - 6:00 PM
Friday: 9:00 AM - 6:00 PM
Saturday: 10:00 AM - 4:00 PM
Sunday: Closed