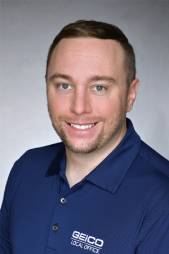 Meet Wayne Nieberlein, your local GEICO insurance agent.
Hi! My name is Wayne Nieberlein, and I have 15 years of insurance industry experience. I've had the pleasure of working at the local GEICO office in Baltimore since 2009. Over 12 years later, I'm thrilled to open my own office in Owings Mills and continue positively impacting my community.
My team and I aim to provide a clear understanding of coverage options – we always simplify terms that might seem complicated. As we provide guidance, we also build trust – our policyholders know they'll be protected. My team and I genuinely enjoy getting to know each person that contacts my office, and strengthening those relationships over the years.
Learn about Wayne Nieberlein, your GEICO insurance agent in Owings Mills, Maryland.
After I experienced a bad car accident, I realized how important it is to have a professional insurance agent's guidance. With that experience and the desire to help others, I knew I could have a positive impact on my community as their knowledgeable local agent.
Wayne Nieberlein understands more than just insurance in Owings Mills.
One of my team's biggest goals is to help our policyholders save money on car insurance, but our expertise doesn't stop there. If you work at one of the many nearby federal offices or military bases, we may be able to offer you a special discount. Do you spend your weekends on the Chesapeake Bay? We could help insure your boat or personal watercraft! If you camp at one of the local parks, such as Rambling Pines Campground, we can help get your RV covered. We can also help bundle your auto coverage with homeowners insurance through the GEICO Insurance Agency — so don't forget to ask us about GEICO's Multi-Policy Discount.
Wayne Nieberlein and his team are involved in the Owings Mills community.
My team and I look forward to attending the Maryland State Fairgrounds events, the Baltimore Motor Trend International Auto Show, and many other local festivals and events. We also enjoy attending Baltimore Ravens, Baltimore Orioles, Stevenson University, and Towson University games. Personally, I work with multiple charities, including Habitat for Humanity Restore Timonium, the Maryland Food Bank, and the Wounded Warrior Project.
Wayne Nieberlein is here for you in Owings Mills, Maryland!
Office Hours
Please call or email your local GEICO Office to learn more as office hours may vary.
Monday: 9:00 AM - 7:00 PM
Tuesday: 9:00 AM - 7:00 PM
Wednesday: 9:00 AM - 7:00 PM
Thursday: 9:00 AM - 7:00 PM
Friday: 9:00 AM - 7:00 PM
Saturday: 10:00 AM - 5:00 PM
Sunday: Closed