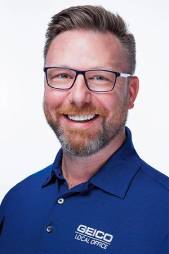 Meet Eric Vaden
Your Local GEICO Insurance Agent
I'm here to help with all your insurance needs.
Office Hours
Monday: 9:00 AM - 8:00 PM
Tuesday: 9:00 AM - 8:00 PM
Wednesday: 9:00 AM - 8:00 PM
Thursday: 9:00 AM - 8:00 PM
Friday: 9:00 AM - 8:00 PM
Saturday: 10:00 AM - 2:00 PM
Sunday: Closed
Eric Vaden is your insurance agent in Boston, MA.
Hi, my name is Eric Vaden. I am proud to be your Boston and South Shore GEICO Insurance agent and look forward to helping you with all of your insurance needs. Before opening my own GEICO office, I worked for the GEICO corporate office in Chevy Chase, MD for several years.
My staff is trained to give you the personalized service and professional advice you expect while helping you save as much money as possible on auto insurance for your car, truck, or SUV. We're committed to taking extra special care of you.
We have full-time Spanish-speaking staff in the GEICO South Shore office available to help you today.
En nuestra agencia de seguro en Boston tenemos representantes que hablan español. Le podemos ayudar con seguros de auto, casa, inquilinos, botes y más, además de brindarle un excelente servicio.
Eric Vaden's team knows more than just car insurance.
We're trained in all personal lines of insurance, so be sure to ask how we can help you save money on homeowners insurance and renters insurance. Our team of avid powersports enthusiasts are experts at helping you with your motorcycle, boat, or ATV coverage as well..
Your local insurance agent knows the Boston area.
My team is licensed to sell insurance in the entire state of Massachusetts. Being from the area, I have a great understanding of our fellow Boston drivers and their circumstances, and I'm happy to advise you on anything that may be on your mind.
Located so close to the seacoast, our office can help you with more than just auto insurance. If you enjoy spending time on the water, we can help insure your boat or personal watercraft. Adding coverage for other property you own could qualify for a multi-policy discount, saving you even more.
Your GEICO Boston agent is near you.
Eric Vaden's office is on Granite Street. Visit him to find out how much you could save!