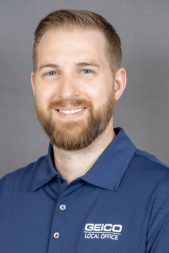 Meet Jeffrey Belz, your local GEICO insurance agent.
Hi! My name is Jeffrey Belz. I'm excited to be your Plymouth GEICO insurance agent and look forward to helping you save on your insurance needs. Before opening my own GEICO Office, I worked for GEICO for 11 years.
If Portuguese is your preferred language, I have full-time staff available to assist you.
Learn about Jeffrey Belz, your GEICO insurance agent in Plymouth, Massachusetts.
Everybody has different insurance needs, depending on their lifestyle. I look forward to getting to know my clients and helping them learn about the types of coverage they need - while looking for ways to save them money!
In my free time, I enjoy spending it outdoors, hiking, camping, or fishing in any of the bays around the Cape. I love taking my family to the Duxbury and Plymouth Beaches along with others in the area. I'm also an avid motorcycle rider! I've been riding for over 10 years.
Jeffrey Belz understands more than just car insurance in Plymouth.
My team could help you save money on car insurance, but that's not all. Do you own a boat or personal watercraft? Make sure you've got the right coverage before heading out on Plymouth or Buzzards Bay. We can help!
Do you enjoy cruising the open road like I do? If so, ask my team about motorcycle insurance! We can also bundle your auto coverage with homeowners insurance through the GEICO Insurance Agency - so don't forget to ask us about GEICO's Multi-Policy Discount.
Jeffrey Belz and his team are involved in the Plymouth community.
Plymouth and the surrounding area is a popular tourist destination, so there is always something fun to do! My team and I have many favorites, including the Plymouth Waterfront Festival, whale watching, and fishing. There are plenty of nearby beaches to visit on the weekends, and Boston is a short drive away. And the food scene in Plymouth is great; my family loves eating at restaurants serving fresh, locally sourced seafood.
Jeffrey Belz is here for you in Plymouth, Massachusetts!
Office Hours
Please call or email your local GEICO Office to learn more as office hours may vary.
Monday: 9:00 AM - 7:00 PM
Tuesday: 9:00 AM - 7:00 PM
Wednesday: 9:00 AM - 7:00 PM
Thursday: 9:00 AM - 7:00 PM
Friday: 9:00 AM - 7:00 PM
Saturday: 10:00 AM - 2:00 PM
Sunday: Closed