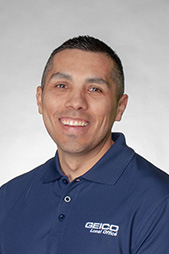 Meet Matt Gallegos, your local GEICO insurance agent in Minneapolis, MN.
Hello, I'm Matt Gallegos. I have been a licensed insurance agent for 10 years and have helped many people with their insurance needs throughout Minnesota! I have worked with many insurance companies and am a top agent by helping clients get the coverage and price they deserve.
I have three children and am married to a wonderful person. I understand the need to protect our most valuable things in our lives and will do my best to make that happen for others. I am incredibly fortunate to be part of the GEICO community and truly want to help Minnesotans experience the many wonderful insurance products GEICO has to offer.
Matt loves being involved in the local Minneapolis community.
I help support many local organizations and charities such as People Serving People, Boys & Girls Club, Habitat for Humanity, The Sanneh Foundation, and more. I am a member of many local organizations including chambers of commerce, park boards, and community organizations around the Twin Cities.
I have been a coach of nearly every sport for over a decade helping to build strong and confident individuals. My mantra is to help build future leaders through confidence building and positive reinforcements, and I have met many incredible families in this fulfilling endeavor.
Matt Gallegos's team knows more than just car insurance.
With the many bodies of water near us, many individuals have boats and other watercraft vehicles. Our office could help insure those boats and personal watercrafts. We also have a special discount for government employees and Military individuals. Please let us go over the many discounts available to you. We have many products available and would love to share with you how we could help you save on your insurance needs.
Visit your insurance agency in Minneapolis.
We are conveniently located in Edina off 494 on France Ave and off 62 on France Ave.
We look forward to meeting you!
Office Hours
Please call or email your local GEICO Office to learn more as office hours may vary.
Monday: 8:30 AM - 7:00 PM
Tuesday: 8:30 AM - 7:00 PM
Wednesday: 8:30 AM - 7:00 PM
Thursday: 8:30 AM - 7:00 PM
Friday: 8:30 AM - 7:00 PM
Saturday: 10:00 AM - 5:00 PM
Sunday: Closed