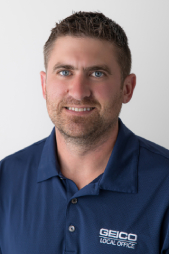 Meet Chad Astle, your local GEICO insurance agent in Springfield, MO.
My name is Chad Astle and it has been a pleasure helping customers meet their insurance needs for over 8 years.
Prior to coming to Missouri, I was vice president of an award-winning independent insurance agency, helping customers find the right auto insurance for their individual needs.
In 2018, my family and I moved to the Springfield area from South Florida to open your new local GEICO office.
Chad is excited to be involved in the Springfield community.
One of the main reasons we chose to come to Springfield is you, the people. My wife, along with our two young boys, instantly felt part of the local community and are overwhelmed with the kindness and hospitality we've received.
Being involved in the community is one of my family's and agency's most important values. Be sure to look out for our team at many of the different events, charities, and non-profit activities across the Springfield area. There's a good chance you may even run into The Gecko! Just make sure you take a selfie with him-it's one of his favorite things!
Chad Astle's team knows more than just car insurance.
You probably think of car insurance when it comes to GEICO, but we offer several other products to help make sure you have the right protection, complete with peace of mind. We'll ensure your boat is sufficiently covered while you're out fishing, and the same goes for your ATV while you're waiting in your favorite hunting spot. We also offer great insurance policies for your home, RV and more!
Ask about our Military discounts.
I am proud to represent a company that was founded to help support the Military and federal employees. Whether you're Active Duty, Retired, in the Reserves or part of the National Guard, we understand your unique lifestyle and are ready to assist you in any way we can. We offer special Military and federal employee insurance discounts, as well as flexible payment options. We'll review all the discounts you could be eligible for and go over payment options that work best for you.
Stop in Chad's office.
We are conveniently located at the north end of Kickapoo Corners Plaza, right behind Kickapoo High School. If you're driving, we are about a half mile north of the Campbell Ave/Nixa exit on James River Fwy.
We can't wait to meet you!
Office Hours
Please call or email your local GEICO Office to learn more as office hours may vary.
Monday: 8:30 AM - 7:00 PM
Tuesday: 8:30 AM - 7:00 PM
Wednesday: 8:30 AM - 7:00 PM
Thursday: 8:30 AM - 7:00 PM
Friday: 8:30 AM - 7:00 PM
Saturday: 10:00 AM - 4:00 PM
Sunday: Closed