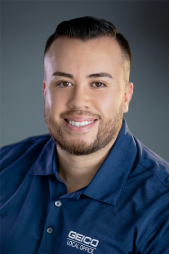 Meet Marco Vargas, your local GEICO insurance agent.
Hi! My name is Marco Vargas, and I have lived in Las Vegas for over 20 years. I started in insurance as a 24-year-old looking to find a career in something that could impact people's lives. I came across an insurance agency opportunity, and as a prior business owner, I decided to give it a try! I've been in the insurance industry for over 5 years now. If Spanish or Tagalog is your preferred language, I have full-time staff available to assist you. We look forward to helping you get the coverage you need!
Learn about Marco Vargas, your GEICO insurance agent in Las Vegas, Nevada.
I take my time with each customer to make sure they understand their coverages. Nothing satisfies me more than knowing I helped a client not only save money, but also cover any gaps of insurance they might have had.
I took up golf about a year ago, and have played on about 20 different local golf courses to-date. I also love to snowboard and travel. My favorite mountain for snowboarding is Eagle Point in Utah, and my favorite vacation spots are the Florida Keys and Alaska!
Marco Vargas understands more than just insurance in Las Vegas.
My team's biggest goal is to help you save money on car insurance, but also has additional expertise. If you love to RV in Death Valley National Park, let us help get you covered! Are you frequently on Lake Mead? We could help insure your boat or personal watercraft, too! We can also help bundle your auto coverage with homeowners insurance through the GEICO Insurance Agency, so don't forget to ask us about GEICO's Multi-Policy Discount!
Marco Vargas and his team are involved in the Las Vegas community.
I'm a proud member of the Latin Chamber of Commerce here in Las Vegas! My team and I also enjoy watching the local sports teams like the Las Vegas Raiders and Golden Knights. Living in Las Vegas, there's always something to do day or night! You'll find my team and I enjoying the Shark Reef Aquarium at the Mandalay Bay and the various water parks around the city.
Marco Vargas is here for you in Las Vegas, Nevada!
Office Hours
Please call or email your local GEICO Office to learn more as office hours may vary.
Monday: 9:00 AM - 6:00 PM
Tuesday: 9:00 AM - 6:00 PM
Wednesday: 9:00 AM - 6:00 PM
Thursday: 9:00 AM - 6:00 PM
Friday: 9:00 AM - 6:00 PM
Saturday: 10:00 AM - 5:00 PM
Sunday: Closed