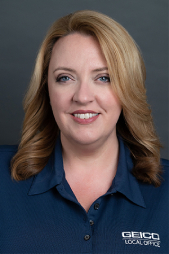 Meet Katherine Harrison, your local GEICO insurance agent in Cincinnati, Ohio.
Hello, I'm Katherine Harrison, your new local GEICO agent in Cincinnati. I've been in the insurance industry for 19 years, and joined the GEICO family in 1999. I recently relocated from the local office in Knoxville, Tennessee and I'm excited to now be serving Greater Cincinnati. My staff and I are dedicated to providing outstanding service for everyone in the Tri-State area and we are committed to giving you the personal, convenient and professional service you deserve.
We love attending events around the area, so if you like getting out and about, there's a good chance you'll see us volunteering and supporting some of the local charities. Be sure to drop by the local GEICO office tent whenever you spot us. You might even get to meet the Gecko!
Katherine Harrison's team knows more than just car insurance.
Everyone knows about GEICO's car insurance, but did you know my office could also help you with other insurance coverages? Whether you enjoy boating on the Ohio River or camping in the beautiful Tri-State area, we can help you with boat insurance, motorcycle insurance, RV insurance and ATV insurance.
We could also help save you money by combining your auto insurance with a homeowners or renters policy through the GEICO Insurance Agency. We even offer identity theft protection and life insurance coverage, providing peace of mind for your family's financial future. We're here to help you with all of your insurance needs.
Come stop by our office!
We are conveniently located in Colerain Township at Colerain Ave & Springdale Rd, less than a mile south of I-275 and just a mile north of Ronald Reagan/Cross County Highway. Drop by when you get a chance!
Office Hours
Please call or email your local GEICO Office to learn more as office hours may vary.
Monday: 9:00 AM - 6:00 PM
Tuesday: 9:00 AM - 6:00 PM
Wednesday: 9:00 AM - 6:00 PM
Thursday: 9:00 AM - 6:00 PM
Friday: 9:00 AM - 6:00 PM
Saturday: 10:00 AM - 5:00 PM
Sunday: Closed