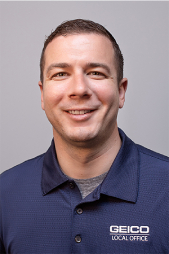 Meet Ryan Wanner, your local GEICO insurance agent.
Hi! My name is Ryan Wanner, and I have lived in Canton for over 30 years. I decided to enter the insurance industry because I wanted to help the local community and participate in public events!
Learn about Ryan Wanner, your GEICO insurance agent in Canton, Ohio.
I want people to have peace of mind and enjoy finding the right insurance to suit their needs and protect their assets. My team and I work to help make any unexpected circumstances more manageable for families.
In my free time, I enjoy spending time with my family. We often take walks with our dog, Bentley, on the towpath. I also enjoy golfing and traveling. I like to visit the Carolinas to see family and take vacations in the Caribbean with my wife. When it comes to sports, I attend games for the local Jackson and North Canton schools. I also get together with fellow local business owners to have fun and network.
Ryan Wanner understands more than just insurance in Canton.
Our expertise doesn't stop with car insurance. We can also help insure your motorcycle! Do you own a boat or personal watercraft? Make sure you have the right coverage before you head out on Sippo Lake Park-East or Meyers Lake! If you like to camp at Bear Creek Park or Atwood Lake campground, ask us how we can help insure your RV. We can also help bundle your auto coverage with homeowners insurance through the GEICO Insurance Agency - so don't forget to ask us about GEICO's Multi-Policy Discount.
Ryan Wanner and his team are involved in the Canton community.
My team and I love attending local events, including Country Fest and the McKinley Presidential Library and Museum. I personally work with the National Alliance of Mental Illness in Stark County.
Ryan Wanner is here for you in Canton, Ohio!
Office Hours
Please call or email your local GEICO Office to learn more as office hours may vary.
Monday: 9:00 AM - 6:00 PM
Tuesday: 9:00 AM - 6:00 PM
Wednesday: 9:00 AM - 6:00 PM
Thursday: 9:00 AM - 6:00 PM
Friday: 9:00 AM - 6:00 PM
Saturday: 10:00 AM - 6:00 PM
Sunday: Closed