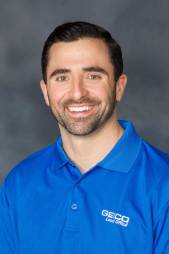 Talk with your local Whitehall insurance agent.
Hello, my name is Dan Mensch, and I've been an insurance agent in the Lehigh Valley since 2007. I opened my local GEICO office in Whitehall in 2014. For personalized, local service, reach out to me and my staff for help with your car, home, motorcycle and other insurance needs. We can answer any questions you may have regarding your policies and coverage to ensure you're properly protected, as well as to review all the GEICO discounts you're eligible for.
Being originally from the Lehigh Valley, I understand the area and how many residents commute between states regularly. My office staff is licensed to sell insurance in Pennsylvania, New York, and New Jersey. We also have full-time, Spanish-speaking staff members to assist you.
Find Dan's team around the community.
Keep an eye out for our insurance agents and the GEICO Gecko at IronPigs games, driving balls at the Allentown Municipal Golf course, or at one of the many Chamber of Commerce and local community events. You could get some fun GEICO swag and speak with an on-site insurance agent.
Find the Whitehall office.
We are conveniently located in Whitehall on MacArthur Road, just across the street from the Whitehall and Lehigh Valley Malls. We look forward to meeting you!
Office Hours
Please call or email your local GEICO Office to learn more as office hours may vary.
Monday: 9:00 AM - 6:00 PM
Tuesday: 9:00 AM - 6:00 PM
Wednesday: 9:00 AM - 6:00 PM
Thursday: 9:00 AM - 6:00 PM
Friday: 9:00 AM - 5:00 PM
Saturday: 10:00 AM - 2:00 PM
Sunday: Closed