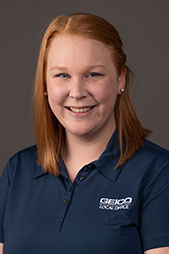 Katie Robinson is your local GEICO insurance agent in Johnson City, Tennessee.
Hi! My name is Katie Robinson, and I'm happy to be in Johnson City. With family located near the Tri-Cities, Johnson City feels like home. I look forward to helping policyholders in my home community save money.
Katie understands more than just insurance in Johnson City, Tennessee.
One of my team's biggest goals is to help our policyholders save money on car insurance, but our expertise doesn't stop there. Do you love spending time at Watauga River or the Bristol Motor Speedway? Then ask us how we could help you insure your boat, jet ski, or RV! We can even bundle home and auto insurance plans through the GEICO Insurance Agency.
Katie and her team are involved in the Johnson City, Tennessee, community.
My team and I look forward to attending several local events this year, including ETSU basketball games, the Bristol Rhythm & Roots Festival, and the Umoja Festival right here in Johnson City. When I'm not helping customers save money, I serve on the Advisory Board for Sigma Kappa Epsilon Zeta and work with Compassion International. I'm also a member of the Tri-Cities Young Professionals Organization.
Come and meet my team in Johnson City, Tennessee!
We are conveniently located across the street from East Tennessee State University campus at the corner of West State of Franklin Road and University Parkway. If you are coming from Interstate 26, we are off Exit 23. We're open Mon – Fri 9 AM - 7 PM; Sat 10 AM – 6 PM. We look forward to meeting you!
Office Hours
Please call or email your local GEICO Office to learn more as office hours may vary.
Monday: 9:00 AM - 7:00 PM
Tuesday: 9:00 AM - 7:00 PM
Wednesday: 9:00 AM - 7:00 PM
Thursday: 9:00 AM - 7:00 PM
Friday: 9:00 AM - 7:00 PM
Saturday: 11:00 AM - 5:00 PM
Sunday: Closed