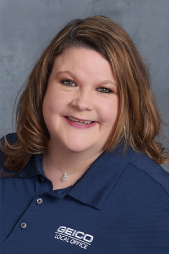 Meet Jennifer Reed, your local GEICO insurance agent.
Hi! My name is Jennifer Reed and I've lived in the Dallas-Fort Worth area for 24 years. I began my career as an insurance agent at a GEICO in 1997, and that's when I found my passion: sales and insurance. The rest, as they say, is history!
If Spanish is your preferred language, I have full-time staff available to assist you.
Learn about Jennifer Reed, your GEICO insurance agent in DeSoto, Texas.
I love to help my customers save money, and give them the peace of mind that having the right insurance can offer. It is my goal to provide my clients with the comprehensive coverage they need at competitive rates, while providing the best customer service.
My family and I love to travel! In fact, we've been to 41 out of the 50 states! Personally, I love to travel abroad and experience new places and different cultures. So far, I've been to England, Scotland, Ireland, France, and Norway, as well as most of the islands in the Caribbean! In addition to traveling, I also enjoy playing tennis and reading.
I'm a big fan of local high school teams, including the DeSoto Eagles, Lancaster Tigers, Red Oak Hawks, Waxahachie Indians, Midlothian Panthers, and Ennis Lions. I'm also a big fan of the Texas A&M Aggies.
Jennifer Reed understands more than just insurance in DeSoto,Texas.
Our office specializes in helping our policyholders save money on car insurance, but we can also help you find additional coverage! Are you stationed with the National Guard in Dallas? Let us know - you could get a special Military discount. Do you own a boat or personal watercraft? Then make sure you've got the right coverage before you head out on Joe Pool Lake. We can help! Do you camp at Cedar Ridge Preserve, Windmill Hill Nature Preserve, or Cedar Hill State Park? Then, we could help insure your RV, too! Plus, you can also protect your home through the GEICO Insurance Agency, so don't forget to ask about GEICO's bundling discount!
Jennifer Reed and her team are involved in the DeSoto community.
A little known fact about DeSoto: it's a growing suburb south of Dallas and is one of 10 cities in the country to be given the "All American City Award" by the National Civic League. This is one reason why my team and I look forward to attending so many local events! Some of our favorites include the Easter Eggstravaganza, Crawfish Festival, Best Southwest Juneteenth Celebration, and July 4th Fireworks Celebration. In my spare time, I work with Believing Restoration Is Attainable, the DeSoto Chamber of Commerce, and the Waxahachie Chamber of Commerce.
Jennifer Reed is here for you in DeSoto, Texas!
Office Hours
Please call or email your local GEICO Office to learn more as office hours may vary.
Monday: 9:00 AM - 7:00 PM
Tuesday: 9:00 AM - 7:00 PM
Wednesday: 9:00 AM - :700 PM
Thursday: 9:00 AM - 7:00 PM
Friday: 9:00 AM - 7:00 PM
Saturday: 9:30 AM - 6:00 PM
Sunday: Closed