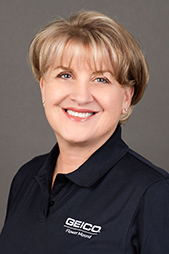 Meet Laura Ferring, your local GEICO insurance agent.
Hi! My name is Laura Ferring. I have over 20 years of insurance experience, and I look forward to helping policyholders in the Flower Mound area with their insurance needs. If needed, I have Spanish - speaking staff available to assist you.
Learn about Laura Ferring, your GEICO insurance agent in Flower Mound, Texas.
In my free time I support the Dallas Cowboys, Texas Rangers, and Boss Swimming.
Laura Ferring understands more than just insurance in Flower Mound.
One of my team's biggest goals is to help our policyholders save money on car insurance, but our expertise doesn't stop there. If you enjoy spending time on Grapevine Lake or Lake Lewisville, we may be able to insure your boat or personal watercraft! Do you work with the DFW Airport USO or are you stationed at NOSC NAS JRB Forth Worth? We may be able to offer a special military discount. We can also help bundle your auto coverage with homeowners insurance through the GEICO Insurance Agency — so don't forget to ask us about GEICO's Multi - Policy Discount.
Laura Ferring and her team are involved in the Flower Mound community.
Personally, I work with the National Charity League, Girl Scouts of America, and Denton County CERT Team as well as the Flower Mound Chamber of Commerce. If you enjoy the Flower Mound River Walk, we are located nearby!
Laura Ferring is here for you in Flower Mound, Texas!
Office Hours
GEICO is here to help during the Coronavirus outbreak.
Please call or email your local GEICO Office to learn more as office hours may vary.
GEICO está aquí para ayudarte durante la expansión del coronavirus.
Debido a que el horario de atención puede variar, por favor, contacta a tu agente local de GEICO para recibir más información.
Monday: 9:00 AM - 9:00 PM
Tuesday: 9:00 AM - 9:00 PM
Wednesday: 9:00 AM - 9:00 PM
Thursday: 9:00 AM - 9:00 PM
Friday: 9:00 AM - 9:00 PM
Saturday: 9:00 AM - 9:00 PM
Sunday: Closed