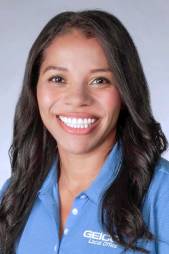 Dallas-Fort Worth, TX Insurance Agent-Victoria Elliott.
Hi, my name is Victoria Elliott. I am a Dallas Native, I've lived in the Dallas-Fort Worth area for most of my life and am so happy to call it home! I am proud to be your Dallas-Fort Worth GEICO Insurance agent and look forward to helping you with all of your insurance needs. Before opening my own GEICO office, I worked for GEICO corporate for over 16 years. My team and I are ready to answer all your questions, and help you find a personalized coverage. In addition, we could help you save on your car insurance.
Victoria's team of experienced agents are also experts on motorcycle insurance, boat insurance, RV insurance, homeowners insurance, and so much more. They could help you save on all your insurance needs!
En nuestra agencia de seguro en Dallas-Fort Worth tenemos representantes que hablan español. Le podemos ayudar con seguros de auto, casa, inquilinos, botes e inundación además de brindarle un excelente servicio.
Victoria's Team Could Help You Find Discounts.
When you get a quote with your GEICO Dallas-Fort Worth agent, be sure to ask about discounts! GEICO offers savings opportunities for Military and federal personnel, as well as members of numerous professional, medical, educational, alumni, fraternity, and sorority organizations.
If you drive a car in Texas, you must have car insurance. And from world-class service and fast, fair claim handling, it makes sense why our customers choose GEICO. Today's the day to contact your Dallas-Fort Worth insurance agent.
Your GEICO Dallas-Fort Worth Insurance Agent is Near You.
Victoria's team is located on Lyndon B. Johnson Fwy.
Office Hours
GEICO is here to help during the Coronavirus outbreak.
Please call or email your local GEICO Office to learn more as office hours may vary.
GEICO está aquí para ayudarte durante la expansión del coronavirus.
Debido a que el horario de atención puede variar, por favor, contacta a tu agente local de GEICO para recibir más información.
Monday: 9:00 AM - 7:00 PM
Tuesday: 9:00 AM - 7:00 PM
Wednesday: 9:00 AM - 7:00 PM
Thursday: 9:00 AM - 7:00 PM
Friday: 9:00 AM - 7:00 PM
Saturday: 10:00 AM - 4:00 PM
Sunday: Closed