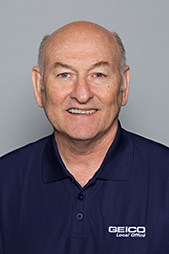 Meet Daniel Lucas
Your Local GEICO Insurance Agent
I'm here to help with all your insurance needs.
Office Hours
Monday: 9:00 AM - 6:00 PM
Tuesday: 9:00 AM - 6:00 PM
Wednesday: 9:00 AM - 6:00 PM
Thursday: 9:00 AM - 6:00 PM
Friday: 9:00 AM - 6:00 PM
Saturday: 10:00 AM - 6:00 PM
Sunday: Closed
More about Daniel Lucas and his El Paso insurance agency.
Hi, my name is Daniel J. Lucas. I have been serving as your El Paso and Southern New Mexico GEICO Insurance Agent since 1998. Before joining GEICO, I served in the United States Army for over 29 years and retired as a Command Sergeant Major at Fort Bliss. I am active in the community as a member of the Association of the U.S. Army, Disabled American Veterans, the Air Defense Artillery Association, the American Legion, El Paso Sergeant Majors Association, the Ysleta Lions Club, and my office is recognized as an El Paso Better Business Bureau Accredited Business.
My office agents are bilingual, and can help you in both English and Spanish.
En nuestra agencia de seguro en El Paso tenemos representantes que hablan español. Le podemos ayudar con seguros de auto, casa, inquilinos, botes e inundación además de brindarle un excelente servicio.
We are licensed by the state of Texas and New Mexico to provide professional insurance advice to you. We can help you with your home and auto insurance needs by helping you find the right policies with any available discounts. We can also help you with Mexico tourist insurance providing auto insurance protection while you are in Mexico.
Visit the office in El Paso.
We are conveniently located at the intersection of Airway Boulevard and Montana Avenue.
If coming from I-10, exit at Airway Boulevard, take Airway towards Montana Avenue. Turn left at the Concourse Plaza shopping center located at the corner of Airway and Montana.