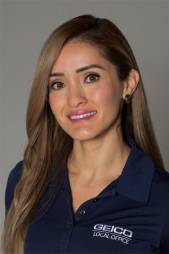 Meet Rocio Pinon, your local GEICO insurance agent.
Hi! My name is Rocio Pinon, and I have been a resident of El Paso for over 30 years. In 2016, while working as a registered nurse, I became involved in my family's insurance business. I enjoyed what I did so much that in 2018, I embarked on the journey of opening my own office and becoming a full-time insurance agent. I've enjoyed it ever since!
If Spanish is your preferred language, I have full-time staff available to assist you.
Learn about Rocio Pinon, your GEICO insurance agent in El Paso, Texas.
All of us work very hard for the things we cherish, and I want to help educate my community on the importance of having the right coverage for when the unexpected happens. I believe in working hard to give my customers the peace of mind that their financial assets are being well taken care of.
I am a mother of two energetic children, so most of my free time is spent watching them grow and helping them explore their community. In my spare time, I enjoy indoor cycling and strength training. This is where I get my "me time" and am able to re-charge for the following day. My husband and I love to travel around the world! We've traveled to Europe, Asia, and South America — and still have a long bucket list to complete! We have a passion for adventure and learning about new cultures.
Rocio Pinon understands more than just insurance in El Paso, Texas.
My office specializes in helping our policyholders save money on car insurance, but we can also help you find the additional coverage you may need. Are you stationed at Fort Bliss? Let us know — you could get a special military discount! Do you frequently camp in the Franklin Mountains? We could help insure your RV, too. We can also bundle your auto coverage with homeowners insurance through the GEICO Insurance Agency — so ask us how you could save!
Rocio Pinon and her team are involved in the El Paso community.
My team and I look forward to attending El Paso Chihuahuas baseball games, the Sun City Festival, La Vina Winery Spring Festival, Neon Desert Music Festival, and special events at the El Paso Zoo.
Rocio Pinon is here for you in El Paso, Texas!
Office Hours
Please call or email your local GEICO Office to learn more as office hours may vary.
Monday: 9:00 AM - 6:00 PM
Tuesday: 9:00 AM - 6:00 PM
Wednesday: 9:00 AM - 6:00 PM
Thursday: 9:00 AM - 6:00 PM
Friday: 9:00 AM - 6:00 PM
Saturday: 10:00 AM - 6:00 PM