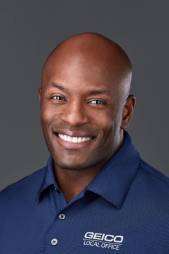 Meet Chadwick Sapenter, your local GEICO insurance agent.
Hi! My name is Chadwick Sapenter. As an insurance agent, I love getting to know families and being a visible, active member of my community. The opportunity to serve people and help them protect the things they work hard for gives me joy. If you prefer, I have staff fluent in Spanish, Vietnamese, and Mandarin available to help meet your needs.
Learn about Chadwick Sapenter, your GEICO insurance agent in Sugar Land, Texas.
Two of my passions are entrepreneurship and helping people. Insurance merges these two passions. One of the most impactful mentors in my life is an insurance agent who has 30 years of experience; watching him serve his customers and seeing the joy it gives him inspired me to become one, too!
In my free time, I run at least 10 miles per week and love competitive events like Spartan Races. When I'm not working, I'm BBQing for my friends and family. I also read at least one book a week. I also love several local sports teams, including Fort Bend High School Football, the Houston Astros, the Houston Texans, the Sugar Land Skeeters, and the Houston Rockets.
Chadwick Sapenter understands more than just insurance in Sugar Land.
One of my team's biggest goals is to help our policyholders save money on car insurance, but our expertise doesn't stop there. We can also help bundle your auto coverage with homeowners insurance through the GEICO Insurance Agency—so don't forget to ask us about GEICO's Multi-Policy Discount.
Chadwick Sapenter and his team are involved in the Sugar Land community.
My team and I look forward to attending many local events, including baseball at Constellation Field, the Gulf Coast International Dragon Boat Regatta, Halloween Town, Christmas Tree Lighting at the Plaza, Red White & Boom, the International Art and Kite Festival, Fort Bend County Fair and Rodeo, and Sugar Land Wine & Food Affair. Personally, I work with the Fort Bend Chamber of Commerce, Central Fort Bend Chamber, Houston Hispanic Chamber of Commerce, Greater Houston Black Chamber, and Houston Asian Chamber of Commerce. I also serve on the boards of Texas CASA, Central Texas Football Academy, and Restoration Collective.
Chadwick Sapenter is here for you in Sugar Land, Texas!
Office Hours
Please call or email your local GEICO Office to learn more as office hours may vary.
Monday: 9:00 AM - 7:00 PM
Tuesday: 9:00 AM - 7:00 PM
Wednesday: 9:00 AM - 7:00 PM
Thursday: 9:00 AM - 7:00 PM
Friday: 9:00 AM - 7:00 PM
Saturday: Closed
Sunday: Closed