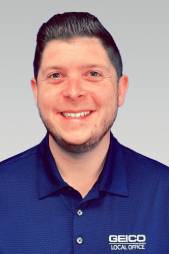 Meet Erik Hirsch, your local GEICO insurance agent.
Hi! My name is Erik Hirsch, and I'm a third generation GEICO employee. My grandfather worked at GEICO for 15 years, and my father has worked at GEICO for the last 30 years. GEICO was a company I always knew I wanted to work for, and I was able to join the team at the age of 19 as a billing and payment specialist. Now, here I am opening my own office in Baytown! I'm so excited to help my local community save money on insurance!
I have staff fluent in Spanish. We look forward to helping you get the insurance coverage you need!
Learn about Erik Hirsch, your GEICO insurance agent in Baytown, Texas.
I always ask myself the following question when working with policyholders: Would the service I am providing be what I would want for my family? My mission is to make sure each customer understands the benefits and peace of mind that comes with having GEICO insurance. We aim to protect policyholders and their families from any unexpected events.
My fiancée and I love to travel and try new places to eat. Our goal is to try a new place in the area once a month. Our favorite Baytown restaurant so far is El Toro! When we can travel, we love to go on Caribbean cruises. On the weekends I like to go to the Baytown Farmer's Market and attend Lee High School sporting events.
Erik Hirsch understands more than just insurance in Baytown.
Our expertise isn't limited to just car insurance! If you take your boat or personal watercraft out on Trinity Bay, East Galveston Bay, or the Gulf of Mexico, ask how we can help get you covered. Make sure you've got the right RV coverage before you head out to Buddy McBride Public Boat Ramp Park, Beach City RV Park, or Houston Leisure RV Resort. We can help! We can also bundle your auto coverage with homeowners insurance through the GEICO Insurance Agency — so don't forget to ask us about GEICO's Multi-Policy Discount.
Erik Hirsch and his team are involved in the Baytown community.
Baytown has a lot to do, but also has that small-town feeling where everyone is connected within the community. We have great local restaurants and shops, and Pirates Bay Water Park is great for the family! You might catch us at Town Square, whether taking a Zumba class, shopping at a farmer's market, or practicing yoga!
Erik Hirsch is here for you in Baytown, Texas!
Office Hours
Please call or email your local GEICO Office to learn more as office hours may vary.
Monday: 9:00 AM - 7:30 PM
Tuesday: 9:00 AM - 7:30 PM
Wednesday: 9:00 AM - 7:30 PM
Thursday: 9:00 AM - 7:30 PM
Friday: 9:00 AM - 7:30 PM
Saturday: 9:30 AM - 6:00 PM
Sunday: Closed