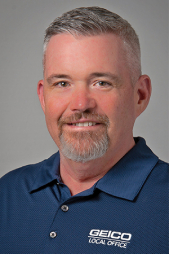 Meet Jerry Coker
Your Local GEICO Insurance Agent
I'm here to help with all your insurance needs.
Office Hours
Monday: 9:00 AM - 6:00 PM
Tuesday: 9:00 AM - 6:00 PM
Wednesday: 9:00 AM - 6:00 PM
Thursday: 9:00 AM - 6:00 PM
Friday: 9:00 AM - 6:00 PM
Saturday: 9:00 AM - 4:00 PM
Sunday: Closed
Jerry Coker is your GEICO Insurance Agent in Spring, TX.
Hello, my name is Jerry Coker and I have been serving the greater Houston area as your GEICO Insurance Agent since 2006. I have worked with GEICO for more than 15 years, and before becoming an agent, I worked in the GEICO Regional Office as a sales supervisor. I was born and raised here in Houston, and I personally understand that our neighbors and friends love the outdoors. We sell more than just car insurance. Whether you enjoy fishing on Lake Houston or camping and hunting in the Piney Woods, we can help insure all the things that move you. We can help you with boat insurance, RV insurance and ATV insurance, too. We also have Spanish-speaking agents in our Spring office to help you.
En nuestra agencia de seguro en Spring, TX tenemos representantes que hablan español. Le podemos ayudar con seguros de auto, casa, inquilinos, botes e inundación además de brindarle un excelente servicio.
Jerry's team is involved in the community.
I am a member of the Houston Northeast Chamber of Commerce and Houston Northwest Chamber of Commerce. You can find me and my staff out and about in the community at events like the Texas Crawfish Festival, the Woodlands 4th of July Celebration, and the Lone Star Rally. The Gecko is also known to make guest appearances at school carnivals and field day events. So if you see the GEICO truck in your neighborhood, we're most likely on our way to an event near you. Come and say "hello!"
Find our office in Spring.
We are conveniently located on the southeast corner of I-45 and Spring Cypress Road.