Roadside Assistance With Emergency Roadside Service
Need roadside assistance?
Get help 24/7 online or through our app. It's faster and easier than calling.
Get Help Now
The Fastest Way to Get Roadside Help: GEICO's Mobile App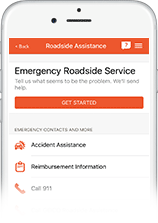 Save yourself time and stress. Contact us with just a few taps in the GEICO Mobile app.
Why use the GEICO Mobile insurance app to get roadside assistance?
It takes as little as 2 minutes to request help.
We're online 24/7 for a quick response.
GPS locator helps us find you.
The app pre-fills your policy information.
You never know when you'll need roadside assistance. Be prepared. Download the app today.
ROADSIDE
to 43426 (GEICO) to receive a link to download the app. †
How To Get Roadside Help On GEICO Mobile
What does GEICO Emergency Road Service cover?
Jump starts for dead car batteries
Labor to change a flat tire
Towing (not accident related)
Lockout services (up to $100)
Emergency Road Service for as Little as $14 a Year per Car
GEICO Emergency Road Service may cover more than competitors do–and for a lower price. But you don't have to take our word for it. Here's what some happy customers have to say.
"Recently had a flat tire and the roadside assistance feature on the app was super easy to use. I received friendly and professional help quickly and was back on the road in no time. Thank you, GEICO!"
— App Store Review
"This app is really nice. I was able to watch progress as they dispatched a tow truck to my wife. Easy to pay the bill, too. I'm so glad I switched from AAA."
— App Store Review
"Locked out of my wife's car. Opened the app and asked for roadside assistance. 40 minutes later they show up and 45 seconds later I'm in my car. Saved the day."
— Google Play Review
Plus, you can manage your GEICO roadside and auto policies from the same place. One bill, one app, one company. How's that for convenient?
Log in to your GEICO Auto Policy or call (800) 42-GEICO (4-3426) to get a quote. Only GEICO auto insurance policyholders are eligible for Emergency Road Service.
Location Services
When you are unsure of your exact location, you may provide us with oral approval to attempt to locate you via information provided by your mobile phone provider ("Location Data"). You may opt-out of this service by declining to provide your oral approval. We will use the Location Data for the sole purpose of dispatching roadside services. We may revise the Location Data if, after conversation with you, we determined it to be inaccurate. We will only share the Location Data with the roadside assistance provider(s). The Location Data is stored temporarily (typically for one week) in a secured database accessible only by those of our employees and agents with a reasonable need to know such information in order to provide roadside services. We will maintain a record of the location to which we dispatched roadside assistance, but such record shall not reference the Location Data as the source of such information.
† GEICO does not charge for this service. However, message and data rates may apply from your mobile carrier.
Important Message from your Cellular Provider
This is not a Cellular Provider application. If you use this application, it may require your Cellular Provider to disclose your customer information, including Mobile Phone Location Information, to the application provider or some other third party. By providing your consent, you authorize your Cellular Provider to disclose your information to third parties to enable this application. Check the application's terms of use and the policies for more information about how the application will collect, access, use or disclose your information. Terms of use and other policies usually are available on the application provider's website. If you aren't comfortable with the application's policies, don't use it. You acknowledge and agree that (1) your relationship with the application provider is separate from your relationship with your Cellular Provider; (2) your Cellular Provider is not responsible for this application; and (3) you will hold harmless your Cellular Provider and its subsidiaries, affiliates, officers, employees, agents, successors and assigns from any judgments, claims, actions, losses, liabilities or expenses arising from or attributable to this application or the acts or omissions of the application provider.