Roadside Assistance - Get Emergency Road Coverage
Get 24/7 Emergency Roadside Service and Assistance
GEICO is here to help you 24/7. Request roadside assistance online or through GEICO Mobile. It's faster and easier than calling.
Get Help Now →
What does GEICO Emergency Road Service cover?
When your car lets you down, we'll be here to help get your vehicle back up and running. GEICO Emergency Road Service provides coverage for the following roadside emergencies:
Towing to the nearest repair facility where the repairs can be made
Battery jump starts
Tire changes when you have a functioning spare
Lockout services (up to $100) if you lock your keys in your vehicle
Winching your vehicle if it is stuck on or immediately next to a publicly maintained roadway
Fuel delivery to help get you to a gas station or your destination
You don't have to pay out of pocket for these individual services. We can help! Use the GEICO Mobile app, request help online, or give us a call 24/7 so we can get help to you as quickly as possible.
What Types of Vehicles We Cover With Our Roadside Assistance:
GEICO's Roadside Assistance covers cars, trucks, and other standard vehicles. However, we also offer options for the following types of vehicles, purchased separately:
Get Quick & Convenient Roadside Assistance With the GEICO Mobile App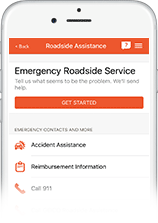 Whether you have a flat tire or just need a jump start, GEICO's Roadside Assistance can help quickly and easily through the GEICO Mobile app. All our roadside assistance services can be requested with just a few taps in the GEICO Mobile app.
Why use the GEICO Mobile app to get roadside assistance?
Request help in as little as 2 minutes
Available 24/7 for a quick response
GPS locator can help us find you
Service tracker allows you to see when help is on the way
You never know when you'll need roadside help. Be prepared. Download the app now. The best way to insurance, claims or shine.
ROADSIDE
to 43426 (GEICO) to receive a link to download the app. †
How To Request Emergency Roadside Help On The GEICO Mobile App
Get Emergency Road Service for as little as $14 a year per car.
GEICO Emergency Road Service may cover more roadside emergencies than competitors do–and for a lower price. But you don't have to take our word for it. Here's what some happy customers have to say about our emergency roadside assistance services.

"Every time I've needed roadside assistance you all have been on time or early with no problems and the nicest service people."
— iOS App Store Review, June 2020

"5 stars! Super easy app to use and the service provider came in less time than expected for roadside assistance! He was super nice to boot. 100% satisfied!"
— Google Play Review, September 2020
Plus, you can manage your GEICO roadside and auto policies from the same place. One bill, one app, one company. How's that for convenient?
Log in to your GEICO Auto Policy or call (800) 42-GEICO (4-3426) to get a quote. Only GEICO auto insurance policyholders are eligible for Emergency Road Service.
Still have questions about the roadside assistance services provided by GEICO?
How far will you tow a vehicle?

We'll tow your disabled vehicle to the nearest qualified repair facility within 20 miles of your breakdown location.

I paid for my recent tow. Can I be reimbursed?

It's easy to

submit a claim for reimbursement

. Submit the original copy of the road service bill and we'll reimburse you based on your coverage limits. In some cases, you can even receive your reimbursement by electronic funds transfer.

How long will it take to get help?

Typically, our contracted providers can reach the service location within 60 minutes.

My car is brand new. Why should I add emergency road service to my policy?

It's true that newer cars tend to break down less often than older ones, but even new car owners may occasionally need emergency assistance for non-mechanical issues, such as jump starts or tire changes.

Is this service directly through GEICO?

GEICO works with service providers nationwide to provide emergency roadside assistance to our policyholders.

How much will GEICO roadside assistance service calls cost?

With the GEICO Emergency Road Service coverage, you don't have to worry about out-of-pocket expenses. We cover a variety of issues. You could be billed for extra costs like tires or gas.

If you don't have our Emergency Road Service coverage yet, you can still give us a call! We negotiate with local service providers and could assist in finding you roadside help.
† GEICO does not charge for this service. However, message and data rates may apply from your mobile carrier.
Location Services
When you are unsure of your exact location, you may provide us with oral approval to attempt to locate you via information provided by your mobile phone provider ("Location Data"). You may opt-out of this service by declining to provide your oral approval. We will use the Location Data for the sole purpose of dispatching roadside services. We may revise the Location Data if, after conversation with you, we determined it to be inaccurate. We will only share the Location Data with the roadside assistance provider(s). The Location Data is stored temporarily (typically for one week) in a secured database accessible only by those of our employees and agents with a reasonable need to know such information in order to provide roadside services. We will maintain a record of the location to which we dispatched roadside assistance, but such record shall not reference the Location Data as the source of such information.
Important Message from your Cellular Provider
This is not a Cellular Provider application. If you use this application, it may require your Cellular Provider to disclose your customer information, including Mobile Phone Location Information, to the application provider or some other third party. By providing your consent, you authorize your Cellular Provider to disclose your information to third parties to enable this application. Check the application's terms of use and the policies for more information about how the application will collect, access, use or disclose your information. Terms of use and other policies usually are available on the application provider's website. If you aren't comfortable with the application's policies, don't use it. You acknowledge and agree that (1) your relationship with the application provider is separate from your relationship with your Cellular Provider; (2) your Cellular Provider is not responsible for this application; and (3) you will hold harmless your Cellular Provider and its subsidiaries, affiliates, officers, employees, agents, successors and assigns from any judgments, claims, actions, losses, liabilities or expenses arising from or attributable to this application or the acts or omissions of the application provider.