Flood Insurance Coverage Information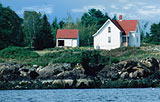 Whether you live on the coast, by a river, or just someplace where an umbrella should never be out of reach, flood insurance can help protect your home and possessions from this common source of property damage.
What is flood insurance?
Homes and businesses located in communities that participate in the National Flood Insurance Program (NFIP) are eligible for flood insurance at a modest cost through the federal government. Under this program, insurance companies issue flood insurance and the federal government administers the program.
Flood insurance normally requires a 30-day waiting period from the time you sign up before the coverage is effective. Exceptions are only made for certain circumstances, such as if you're purchasing a home and the closing is in less than 30 days.
Why do I need flood insurance?
If you own property in a special flood hazard area (SFHA) and have a mortgage, federal law normally requires you to have flood insurance. If you live in an SFHA there is at least a one percent chance of flooding in any given year.
Even if you are not required to purchase flood insurance, your home may still be at risk from floods.
Many people think that flood insurance is just for properties on the water, like beach houses. But unfortunately, because of factors like the shape of surrounding land, the type of soil, and weather patterns, you don't need to have pelicans nesting in your backyard to be at risk for flooding.
What does a flood insurance policy cover?
Flood insurance covers the structure of your home and your personal property in the event of a flood. Typically long, heavy rain leads to the type of flooding that is covered by a flood policy.
Living in a condo or rental? Flood insurance is available for you too, in case flood waters wind up getting up close and personal with your belongings.
A word to the wise, though—there are other ways that a home can sustain water damage (such as a pipe bursting in the wall) that are not usually covered by a flood policy, so you should be sure of what your home or renters insurance policy covers.
Why GEICO?
In some instances, flood policies can become complicated. That's why a GEICO flood specialist will work with you to make sure you have (and understand) the right kind of policy for your situation. You get the best of both worlds; GEICO's top rated service and the backing of the federal government.
So if you need flood insurance or just want to get some more details, give us a call at (800) 841-3005.
Please note:
The above is meant as general information and as general policy descriptions to help you understand the different types of coverages. These descriptions do not refer to any specific contract of insurance and they do not modify any definitions, exclusions or any other provision expressly stated in any contracts of insurance. We encourage you to speak to your insurance representative and to read your policy contract to fully understand your coverages.
Contact Us
We're here for you 24 hours a day, 7 days a week. The quickest way to contact us is through our app or online. You can also chat for immediate help.
Check Out a New Quote
You are about to leave geico.com