About Pet Insurance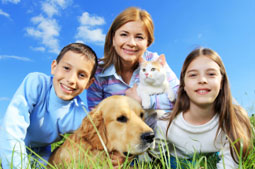 Did you know that the expression, "raining like cats and dogs," originated in Europe during the early 1500s to describe the high cost of vet bills? Although historians have never confirmed the accuracy of this statement they have confirmed that the GEICO Insurance Agency can help you get nose-to-tail coverage for your cats and dogs.
What is pet insurance?
Pet insurance is health insurance that pays a portion of your pet's medical bills based on your coverage. No one plans to be injured or sick and neither do cats or dogs. As illness and broken bones can be painful, it never hurts to prepare for the unexpected when it comes to your pets. While the love of your cats or dogs is priceless, veterinarian visits are not. Pet insurance can help make these bills more manageable.
Get your free pet insurance quote today.
Do I need pet insurance?
Pets are a part of your family. Like every member they get sick, injured, and have accidents. However, just because cats have nine lives doesn't mean you should have to work like a dog to pay the vet bills. That's where pet insurance comes in.
What does pet insurance cover?
Embrace Pet Insurance has teamed with the GEICO Insurance Agency to help make pet insurance easy. That means a plan that is simple and comprehensive, and allows you to use any licensed veterinarian you choose.
Choose your annual maximum, deductible, and reimbursement percentage while your pet enjoys coverage for:
Breed-specific conditions
Cancer treatment
Diagnostic testing and imaging (e.g. X-ray, Ultrasound, MRI)
Surgery, hospitalization, and nursing care
Alternative therapies and rehabilitation
ER and specialist care
Veterinary exam fees
Prescription drug coverage (optional)
Is routine care covered?
Wellness Rewards* is an optional add-on to your pet insurance coverage that provides a flexible routine care plan. Wellness Rewards reimburses everyday veterinary care for your cat or dog not included in your pet insurance. With no deductible, no co-pay, and no waiting period you can start using Wellness Rewards the day you sign up.
Wellness Rewards Reimburses For:
Annual check-ups
Spay/Neuter procedures
Vaccines
Heartworm medications
Teeth cleaning and more
How much does pet insurance cost?
The GEICO Insurance Agency can help you get a customizable plan to fit your budget without sacrificing coverage. Choose your deductible, percent of reimbursement, and annual maximum reimbursement based on your needs.
Get your free pet insurance quote to see how affordable it is.
Will my pet be covered for life?
Yes. If your pet is eligible for accident and illness coverage when enrolling, then that level of coverage will continue as long as your pet remains insured through Embrace Pet Insurance.
What is not covered?
There are exclusions including pre-existing conditions, prosthetic limbs, and pet training sessions.
For more information on exclusions, call (800) 793-2003 to speak to an agent.
| | |
| --- | --- |
| Mon – Fri | 9:00 AM – 8:00 PM (ET) |
| Sat | 10:00 AM – 5:00 PM (ET) |
When does my coverage begin?
The waiting period for accidents and illnesses is 14 days. For coverage to start, each pet you are insuring must have visited a vet within the past 12 months. If you have a new pet or your pet hasn't seen a vet in the last 12 months, you can take your pet in during the waiting period without any loss of coverage.
Please note:
The above is meant as general information and as general policy descriptions to help you understand the different types of coverages. These descriptions do not refer to any specific contract of insurance and they do not modify any definitions, exclusions or any other provision expressly stated in any contracts of insurance. We encourage you to speak to your insurance representative and to read your policy contract to fully understand your coverages.
Embrace Disclosure for California Residents
When you click on the "free pet insurance quote" or "Get Your Pet Insurance Quote Today" links, you will be taken to a site owned by Embrace Pet Insurance Agency, not GEICO.
GEICO has no control over the privacy practices of the company mentioned above and assumes no responsibility in connection with your use of their website. Any information that you provide directly to them is subject to the privacy policy posted on their website.
Pet health insurance is administered by Embrace Pet Insurance Agency, LLC and underwritten by one of the licensed insurers of American Modern Insurance Group, Inc. (which includes American Modern Home Insurance Company d/b/a in CA as American Modern Insurance Company (Lic. No 2222-8), and American Southern Home Insurance Company) and is secured through GEICO Insurance Agency, LLC.

Coverage is subject to policy terms, conditions, limitations, exclusions, underwriting review and approval, and may not be available for all risks or in all states. Rates and discounts vary, are determined by many factors and are subject to change. Wellness rewards are offered as a supplementary benefit to the pet health insurance policy and are not an insurance product. Wellness rewards are offered and administered by Embrace Pet Insurance Agency in the United States.
Contact Us
We're here for you 24 hours a day, 7 days a week. The quickest way to contact us is through our app or online. You can also ring us by phone.