What does renters insurance cover and how does it work?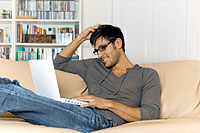 What does renters insurance cover?
Renters insurance can cover both your personal liability and your belongings in the event of a covered incident, such as theft, water damage, or fire. The coverage will address expenses up to the specified limits of your policy. It's important to note that certain events, including earthquakes and sinkholes, may not be included in the standard coverage.
A renters insurance policy protects you and your belongings from the unexpected. Could you afford to replace all your personal items if they were destroyed in a fire? A renters insurance policy could help cover expenses to help replace your personal property. It could also assist with temporary living expenses if your apartment is damaged by a covered loss, and you cannot stay there.
In addition, renters' insurance provides coverage to help protect you against claims that others make against you. This is called liability coverage and can help cover medical expenses and/or legal fees if someone is injured on your property.
Keep reading to learn more about renters insurance and discover whether medical bills, mold, or vandalism are covered in most renters insurance policies.
What does renters insurance protect?
Too often, people think they don't have enough property to make a renters insurance policy worthwhile. But take a minute to think about what you own, and what you've got to lose, including:
Clothing
Furniture
A television or entertainment system
A computer
Musical or sporting equipment
Jewelry
Personal Property
With a renters policy, your cherished belongings can be protected in case of theft or damage. It's a standard feature in the majority of renters insurance policies. Personal property includes items ranging from your favorite sectional to your tablet.
Personal Liability
Whether you inadvertently damage a staircase post during a clumsy descent or a guest gets hurt during an intense game night at your place–personal liability steps in. It covers a range of mishaps, including property damages you cause or medical expenses for injuries sustained on your premises.
Medical Bills
In the unfortunate event of a mishap, like someone falling in your rental, renters' insurance steps up. It shoulders the potential costs you could be held accountable for, up to the limits of your policy. This coverage could offer a reassuring buffer against potential lawsuits, ensuring the injured party's medical bills are taken care of.
Temporary Housing or Loss of Use
Whether it's due to necessary fumigation or essential repairs, renters insurance has your back. Should your rental become uninhabitable for a while, your policy can step in to cover the costs of alternative lodgings, be it a hotel stay or another temporary abode. Coverage typically allows for similar pricing as your current rental.
Military Equipment
Your renters insurance can cover military gear, including uniforms, up to a specified limit. So, if a pipe unexpectedly bursts in your residence during your deployment or any other mishap unfolds, rest easy knowing your treasured items have a safety net for replacement.
When does renters insurance apply?
Your renters policy will state exactly what you're insured against. In the insurance world, it's known as "named peril" coverage.
What are some named perils your renters policy may cover?
Fire or lightning
Windstorm
Smoke
Vandalism or malicious mischief
Theft
Accidental discharge of water
Other common loss types
Your coverage will also include liability protection, which generally covers injury to another person on your property. If necessary, your policy can even pay for your legal defense in these circumstances. Many landlords actually require tenants to purchase renters insurance with specific liability limits, especially if they own pets.
Additionally, your policy will include medical payments coverage that pays for medical expenses of people who don't live with you, but who are injured on your property.
Get covered. Get a renters insurance quote now.
What is not protected under renters insurance?
A renters insurance policy does not provide coverage for your belongings if they're damaged under certain events. While natural disasters such as earthquakes and flooding are generally excluded, specialized policies may be available for these events. There may be other events that are not covered under your policy, so you should always review your policy documents and contract to be sure.
Specific limits of coverage available for items such as jewelry, art, and antiques may also apply. Make sure you select enough coverage to protect your items.
How much does renters insurance cost?
Renters insurance secured through GEICO can cost as little as $12 per month. How much coverage you choose to buy and what deductibles you select affect the price of your policy. Coverage limits vary, and you will want to select an amount that safely protects your belongings. The deductible is the amount you agree to pay before your benefits apply. Higher deductibles lower your insurance cost, while lower ones raise it. Think of it as how much you are willing to pay out of pocket if you have a covered loss in exchange for a lower monthly renters insurance payment.
How much renters insurance do I need?
You should think about all the personal property that you own. You want to make sure you buy a renters insurance policy with limits that will be enough to cover these items. You may want to create an inventory to make sure you don't forget anything. You can update as you buy new items. Don't forget you may need to update your renters insurance policy too. We also have an easy to use personal property calculator to estimate the value of your belongings. This tool can help you customize your renters policy to cover your needs.
Renters insurance provides protection if your personal property is damaged, stolen, or destroyed. Get an online renters insurance quote.
Why buy renters insurance?
Without renters insurance, you've got no coverage for personal property loss or damage. Fortunately, you can get affordable renters insurance (also called apartment insurance) to help protect you in situations like these. Get a free online renters insurance quote right here or call (800) 841-3005.
Renters Insurance FAQs
Does renters insurance cover flooding?

Renters insurance generally does not include coverage for flooding. To ensure protection against flood damage, a separate flood insurance policy is necessary. Obtain a flood insurance quote here.

Does renters insurance cover earthquakes?

Renters insurance does not typically provide coverage for earthquake damage. If you reside in an earthquake-prone region, it is advisable to consider obtaining separate earthquake insurance.

Does renters insurance cover undocumented items?

Renters insurance has specific coverage limitations and does not extend to all items, especially those without proper documentation. For instance, damages from a car break-in would not be covered.

Does renters insurance cover bedbugs or insect infestation?

Infestations, including those caused by bedbugs, are not covered under standard renters insurance policies. The responsibility for extermination costs typically lies with the tenant or the landlord.

Does renters insurance cover mold damage?

The coverage of mold damage under renters insurance is conditional. If the mold growth resulted from a covered event, such as water damage following a gas explosion, the policy might provide coverage. Otherwise, mold damage is typically excluded.

Does renters insurance cover vehicle theft?

Renters insurance does not cover the theft of vehicles. However, if personal belongings are stolen from within the vehicle, they may be covered under certain conditions.

Are moving costs covered by renters insurance?

Renters insurance does not cover the costs associated with moving, even if the move is necessitated by events like repairs or infestations. It's worth noting that some moving companies offer insurance options to protect belongings during transit.
Go with GEICO and Save
You hear "GEICO," and you think "car insurance," right? But we have so much more to offer and many ways to help you save. It is easy to find an affordable renters policy with great coverage through the GEICO Insurance Agency. In fact, with our proud record of customer satisfaction, the question is, why wouldn't you choose GEICO? Get a quote today.
Contact Us
We're here for you 24 hours a day, 7 days a week. The quickest way to contact us is through our app or online. You can also chat for immediate help.
Check Out a New Quote
You are about to leave geico.com