Learn About Personal Watercraft (PWC) Insurance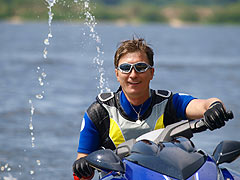 You glide across the water on this craft that is part boat and part motorcycle—and definitely all fun. You get soaked by water spray that keeps you cool under that blazing summer sun. WaveRunner, Jet Ski, and Sea-Doo are just a few names of these inboard engine craft that watersports enthusiasts call PWCs, or personal watercrafts.
So don't get thrown overboard by an accident that leaves you and your ride landlocked. Make sure you know how to safely operate your PWC and let the GEICO Marine Insurance Company help you get a personal watercraft policy. A personal watercraft insurance quote is fast, easy and above all—free. Plus, if you have any questions concerning personal watercraft coverage, give us a call at (855) 395-1412.
What is PWC insurance?
PWC insurance helps insure you and your personal watercraft against accidents, vandalism, and liability. That means smooth riding. The GEICO Marine Insurance Company can help you get the right personal watercraft policy to suit your needs.
What does PWC insurance cover?
The most important part that's covered is you. A personal watercraft insurance policy typically insures you against many common liability losses regardless of whether you operate it yourself or loan it to another person.
In situations like these, you may be covered for:
Damage to another craft or dock
Bodily injury or death to another person due to your negligence
The negligence of another driver while using your PWC
Towed water skiers or wake boarders who become injured using your craft
Physical damage to the hull, machinery, and equipment
Injury to you caused by an uninsured watercraft operator
Towing assistance if you break down on the water
What is excluded from a PWC policy?
You should read each line in your policy to get the facts on excluded items.
Typical examples of what's not covered are:
Any craft that has been modified to enhance speed and performance
Operation of a PWC after dark—dusk to dawn
Because insurance needs differ depending on the type of personal watercraft you own, read the details in your policy to see what is covered and what is specifically excluded.
What types of PWC can the GEICO Marine Insurance Company help you insure?
While the official definition of a personal watercraft varies from state to state, these are two of the more common types of personal watercrafts that GEICO Marine Insurance Company can help you insure:
A stand-up PWC allows for one rider who either stands or kneels on the watercraft, as opposed to sits. Leading brands of stand-up PWCs include Kawasaki and Yamaha.
Sit-downs, which allow the rider to sit or stand, can usually carry 2–4 people and often have the ability to tow skiers and wake boarders.
Can I add a PWC to an existing boat insurance policy?
No, your PWC will need its own insurance policy. You can get a personal watercraft insurance quote. It's easy. We can help you find the right coverage.
Please note:
The above is meant as general information and as general policy descriptions to help you understand the different types of coverages. These descriptions do not refer to any specific contract of insurance and they do not modify any definitions, exclusions or any other provision expressly stated in any contracts of insurance. We encourage you to speak to your insurance representative and to read your policy contract to fully understand your coverages.
Contact Us
We're here for you 24 hours a day, 7 days a week. The quickest way to contact us is through our app or online. You can also chat for immediate help.
Check Out a New Quote
You are about to leave geico.com