Having A Baby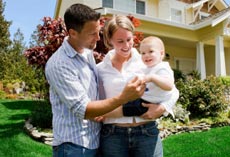 First of all, congratulations! Now, even before you start telling everyone, "You gotta see the baby!" you should be prepared for how your life and financial situation will change. GEICO is here to help and we'd love to be part of your family.
Life Insurance
If the new baby is keeping you up, reading about life insurance on the internet will help you get back to sleep pretty fast. Help protect your family's future—purchase a life insurance policy or update your current limits. If you still have questions or are ready to get a quote, call us at (888) 532-5433 and speak to an insurance representative. You can also get a quote online.
Booster Seat Safety
You want to keep your children safe when you take them out into the world, and that includes riding in the car. The Insurance Institute for Highway Safety (IIHS) provides current booster seat ratings.
Additional Resources
Contact Us
We're here for you 24 hours a day, 7 days a week. The quickest way to contact us is through our app or online. You can also chat for immediate help.