Car Insurance Coverage: Auto Coverage Types & More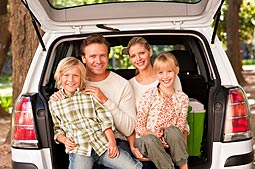 With so many different coverages, it's hard to know what's right for you. Understanding the different types of coverages can help you find the right car insurance policy for your needs and budget. Learn about types of auto insurance coverage with GEICO.
What is car insurance?
Car insurance helps provide financial protection for you, your family, other passengers, and your vehicle. You can choose the amount of protection by selecting your coverages and limits. An auto insurance policy can provide coverage for:
Accidents
Liability
Medical expenses
Property
Vehicles
Understanding Your Auto Insurance
Your auto insurance policy consists of multiple coverages that provide protection in different situations involving your vehicle. Coverages have different limits and may have deductibles. Specific coverages and limits may also be required by a lienholder or lender.
To better understand your policy, there are several insurance terms you should know:
Coverage: protection and benefits provided to you
Limits: maximum amount of protection for a specific coverage
Policy: contract between you and your insurance company
Premium: price of your insurance policy
Deductible: portion you pay out of pocket, if you file a claim
When you compare car insurance rates, make sure they're for the same coverages, deductibles, and limits. Shopping for car insurance is easy and fast with GEICO. Learn more about how auto insurance rates are determined.
Types of Car Insurance Coverage
First, let us clarify that there's no such thing as "full coverage." Some people may say "full coverage" means the minimum liability coverages for their state, comprehensive coverage and collision coverage. But it could also mean something else. Ultimately, you should choose the coverages that are right for you. "Full coverage" is an insurance myth.
What are the different types of coverages? Auto insurance includes liability coverages, vehicle coverages, coverages for yourself, and other optional coverages.*
Liability Coverages
Liability Coverages include:
Bodily Injury liability: pays damages for bodily injury or death resulting from an accident for which you are at fault
Property Damage liability: pays for damage to someone else's property resulting from an accident for which you are at fault
For serious accidents, you want enough insurance to cover a judgment against you in a lawsuit without jeopardizing your personal assets. Therefore, it's a good idea to have the same level of bodily injury coverage for all your cars. You may also want to consider an umbrella policy which provides additional coverage for more serious accidents and lawsuits.
Medical Coverages
Uninsured Motorist Coverages
Vehicle Coverages
Collision coverage: may pay for damage to your car when it hits, or is hit by, another vehicle or other object
Comprehensive coverage: may pay for damage to your car from theft, vandalism, flood, fire or other covered losses
You may be able to lower your premium if you select a higher deductible. If you have an older vehicle you may want to consider whether you need these coverages as they are normally limited to the cash value of your car.
Additional Auto Insurance Coverages
There's a lot to learn about auto insurance coverages. If you have questions, contact our licensed insurance agents at (800) 861-8380.
How much car insurance do I need?
The right amount of auto insurance coverage comes down to your needs, budget, and state requirements. Some things to keep in mind when choosing your coverage are:
Which coverages and limits does my state require for all drivers?
Does my lienholder have coverage requirements?
Do I need to protect any other assets, such as my home?
How much can I afford to pay out of pocket at any given time?
What is my vehicle worth now?
We recommend checking your state insurance minimums and reviewing all coverage options to make sure you have the right coverage. Our Coverage Calculator can help you find the right amount of coverage and the right deductible to fit your budget.
Why should I buy my auto insurance from GEICO?
Five reasons to buy an auto insurance policy from GEICO:
97% customer-satisfaction rating**
Contact us 24/7/365
Easily manage your policy on the GEICO insurance app
You could save up to 15% with our cheap car insurance rates
Multi-policy discount when you combine home and auto insurance
*Some discounts, coverages, payment plans and features are not available in all states or all GEICO companies. Coverage is subject to the terms, limits and conditions of your policy contract.
**Customer satisfaction based on an independent study conducted by Alan Newman Research, 2020.
Contact Us
We're here for you 24 hours a day, 7 days a week. The quickest way to contact us is through our app or online. You can also chat for immediate help.
Check Out a New Quote
You are about to leave geico.com