New Jersey Car Insurance

Auto Insurance Coverage in New Jersey
Whether you're new to New Jersey or you've lived in the Garden State for a while and are just shopping around for the best car insurance rate, you'll be glad you checked with GEICO. We've got many ways to help you save money and lots of useful information for New Jersey drivers just like you.
Take a look at the facts below as you consider the auto insurance coverage that's right for you. You can start your New Jersey car insurance quote online.
Standard vs. Basic Car Insurance Policies in NJ
There are two common types of New Jersey auto insurance policies: standard and basic. The standard policy (most popular) provides several coverage options as well as the option to buy additional protection. A basic policy, while cheaper, provides limited benefits.
As a New Jersey driver, you must have an insurance ID card for each vehicle on your policy and be ready to show it in case you:
Schedule a NJ vehicle inspection
Are involved in an accident
Are stopped by a police officer
Required Auto Coverage in New Jersey
According to the New Jersey Motor Vehicle Commission, all vehicles in NJ must have Liability, Personal Injury Protection (PIP), and Uninsured/Underinsured Motorist Coverage.
Bodily Injury Liability Coverage: Minimum coverage level is $25,000 per person and $50,000 per accident
Property Damage Liability Coverage: Minimum coverage level is $25,000 per accident
Personal Injury Protection (PIP): Minimum coverage level is $15,000
Uninsured/Underinsured Motorist Bodily Injury Coverage: Minimum coverage level is $25,000 per person and $50,000 per accident
Uninsured/Underinsured Motorist Property Damage Coverage: Minimum coverage level is $25,000 per accident with a $500 deductible
Learn more about New Jersey auto insurance requirements.
Full Tort vs. Limited Tort for NJ Auto Insurance Policies
In New Jersey, you have the option to carry either Full or Limited Tort. With Full Tort, you retain the right to sue the negligent party for pain and suffering as a result of an accident, regardless of the severity of your injury. Limited Tort is a less expensive option because you agree to limit your ability to sue for pain and suffering unless you sustain a catastrophic injury.
If you are unsure of which option you prefer, you can always speak with a GEICO insurance expert. You can even swing by one of our local New Jersey offices and speak to one in person.
Important Information About Personal Injury Protection (PIP) Claims in New Jersey
Information about car insurance claims requirements for the State of New Jersey, as well as documents related to New Jersey's Decision Point Review Plan and Pre-Certification Plan can be reviewed in the link provided.
New Jersey Teen Driver Laws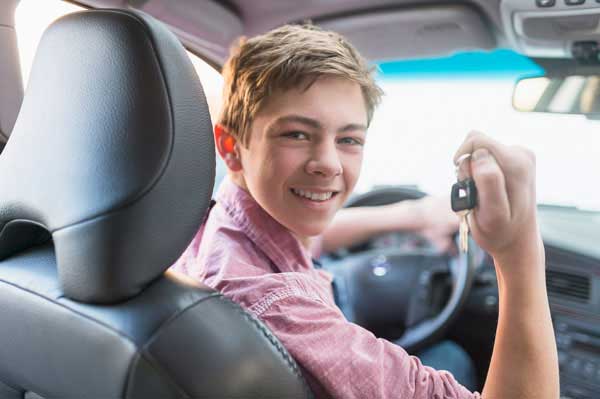 In New Jersey, teens may apply for a student learner's permit at 16. After the new driver obtains his or her permit, he or she must drive supervised for at least six months. The driver may not be on the road between 11:01 PM and 5:00 AM, and must be accompanied in the passenger seat by an adult supervising driver who is at least 21 years old, has a valid NJ driver's license, and has at least three years of driving experience. Parents or guardians are allowed as passengers, but not siblings.
At 17, drivers may get their probationary license, which permits them to practice unsupervised driving. While the driver may be on the road unsupervised, the rest of the student learner's permit rules apply. When the driver turns 18, he or she is eligible for a full driver's license. Please make sure you notify us when any dependent or household resident obtains a license or a permit so we may review your policy coverages.
Through GEICO, student drivers with a "B" average or better may be eligible for a Good Student Discount. Check with a GEICO agent to verify requirements.
New Jersey Registration Information
If you are planning to visit a New Jersey Motor Vehicle Commission office to get a license or register a vehicle, you will need to take certain documents.
New to the Garden State?
New Jersey law requires the following to take place within 60 days of your move or before your current documents expire, whichever occurs first.
Transfer your out-of-state license
Transfer your vehicle title
Register your vehicle
For more information on the requirements when moving to New Jersey visit the New Jersey Motor Vehicle Commission site.
Contact Us
We're here for you 24 hours a day, 7 days a week. The quickest way to contact us is through our app or online. You can also chat for immediate help.
Check Out a New Quote
You are about to leave geico.com