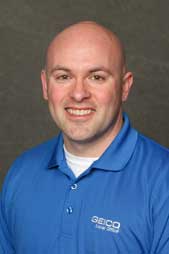 Jason Zarrilli is your GEICO Insurance Agent in Huntsville.
Hi, my name is Jason Zarrilli, and I have been working in the family-owned local GEICO office since 2001. My insurance agency serves northern Alabama and the Tennessee Valley.
Our local GEICO office can help you with more than just car insurance. Ask how we can help you with your home and renters insurance at competitive rates in this changing and challenging property market. If you are one of the Valley area's motorcycle riders, we can also help you with motorcycle insurance. We serve the residents of the Tennessee Valley as well as the Anniston, Gadsden, and Shoals areas with a variety of personal and business insurance needs. Stop in or call to see how we could help you save.
Jason's team also proudly serves the Military and government employees.
We serve the area's Military personnel and government employees as well as the Anniston Army Depot and the Alabama National Guard at Ft. McClellan. We travel to these areas regularly for various events.
Keep an eye out around Huntsville.
Our office is a ten-year member of the Redstone-Huntsville Chapter of The Association of the United States Army as well as a member of the Huntsville Chamber of Commerce. Keep an eye out for the Gecko at fishing or golf tournaments, bridal fairs, home shows, and motorcycle events from Anniston all the way to Muscle Shoals!
Office Hours
Please call or email your local GEICO Office to learn more as office hours may vary.
Monday: 9:00 AM - 6:30 PM
Tuesday: 9:00 AM - 6:30 PM
Wednesday: 9:00 AM - 6:30 PM
Thursday: 9:00 AM - 6:30 PM
Friday: 9:00 AM - 6:30 PM
Saturday: 9:00 AM - 4:00 PM
Sunday: Closed