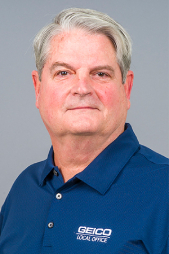 Get to know your Pensacola insurance agent, David Thompson.
Hi, I'm Dave Thompson. I have been serving as your GEICO Insurance Agent since 1993. I started in Ft. Walton Beach and moved my office to Pensacola in 2008. My office specializes in all kinds of insurance products, not just car insurance. We have great waterways here with the Gulf of Mexico and several bays, so if you enjoy spending time on the water like I do, let us help you protect your boat or personal watercraft.
David's office is proud to help Military personnel save on insurance.
I am a 32-year veteran of the Army National Guard, and I have been deployed overseas three times. With my experience, I can understand the unique needs of the Military. My office can help you with obtaining insurance when you are deployed overseas and help you find Military discounts for your insurance coverage.
Spot the local GEICO team around Pensacola.
Don't forget to look for our GEICO tent at local events like the Blue Angels, semi-pro baseball games, local football games, and Pensacola Chamber of Commerce events. You can also listen for us in the "Player of the Week" broadcasts.
Stop by the Pensacola office.
We are conveniently located on Nine Mile Road, 2 miles east of Highway 29.
Office Hours
Please call or email your local GEICO Office to learn more as office hours may vary.
Monday: 9:00 AM - 5:00 PM
Tuesday: 9:00 AM - 5:00 PM
Wednesday: 9:00 AM - 5:00 PM
Thursday: 9:00 AM - 5:00 PM
Friday: 9:00 AM - 5:00 PM
Saturday: 10:00 AM - 12:00 PM
Sunday: Closed