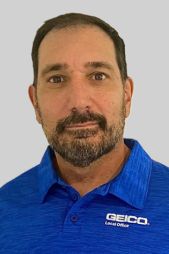 Get to know your Duluth insurance agent, Jim Somers.
Hi, my name is Jim Somers, and I have been serving the North Atlanta Metro Area as your GEICO Insurance Agent since 2010. For 16 years before joining GEICO, I worked in the insurance and financial services industry. Our Duluth office specializes in insurance for both your auto and home. We can help you find the right coverage for your high-end luxury home, rental property, or vacant home, and we can also help you secure a flood policy for all of the above. Call or stop in to see how we can help you. We also have Spanish-speaking agents available to help you.
En nuestra agencia de seguro en Duluth tenemos representantes que hablan español. Le podemos ayudar con seguros de auto, casa, inquilinos, botes e inundación además de brindarle un excelente servicio.
Jim gives back to the Duluth community.
I am active in the community as a member of the Rotary Club of Johns Creek North Fulton. I also volunteer at events for the Habitat for Humanity and serve on the board for The Impact Group, which helps homeless veterans in Gwinnett County.
The Duluth office is easy to find.
We are located on Peachtree Industrial Boulevard, in The Kroger Plaza facing Pleasant Hill. We'd love to meet you!
Office Hours
GEICO is here to help during the Coronavirus outbreak.
Please call or email your local GEICO Office to learn more as office hours may vary.
GEICO está aquí para ayudarte durante la expansión del coronavirus.
Debido a que el horario de atención puede variar, por favor, contacta a tu agente local de GEICO para recibir más información.
Monday: 9:00 AM - 7:00 PM
Tuesday: 9:00 AM - 7:00 PM
Wednesday: 9:00 AM - 7:00 PM
Thursday: 9:00 AM - 7:00 PM
Friday: 9:00 AM - 5:00 PM
Saturday: 10:00 AM - 2:00 PM
Sunday: Closed