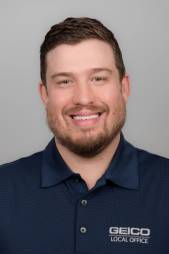 Meet Nick Kuglar, your local GEICO insurance agent.
Hi! My name is Nick Kuglar, and I'm thrilled to bring a local GEICO office to the town of Newnan. I'm very proud of the team we've built in this office. Every member of my team is experienced and brings a unique approach to customer service. We're ready and eager to serve your insurance needs in the Newnan community.
Learn about Nick Kuglar, your GEICO insurance agent in Newnan, Georgia.
After ten years of working in IT sales and management for two different Fortune 100 companies, I was ready for a change. One of my best friends owns a GEICO Local Office in Tennessee. He is always talking about how supportive the company is, how great the culture is, and how the opportunity allows him to get involved in his community while providing an excellent quality of life. So, when I had the chance to open my own GEICO Local Office, I jumped in with both feet.

My wife and I welcomed our first baby in September 2020, and we're enjoying all the blessings and challenges of being new parents. I am an avid golfer, and in my spare time, I enjoy exploring new golf courses all over Georgia. I also love going to concerts and traveling with my family.
Nick Kuglar understands more than just insurance in Newnan, Georgia.
I was born and raised in Georgia and I pursued this opportunity with GEICO specifically in Newnan. My family is from West Georgia, so being able to open my first business in this area is meaningful. I'm enjoying getting to know the people, fellow business owners, and the community at large. Being in the insurance business allows me to help people protect their home, cars, boats, RVs, and motorcycles - so they can focus on enjoying them. I look forward to meeting and working with the vibrant community of Newnan, GA.
Nick Kuglar and his team are involved in the Newnan community.
My team and I hope to see you around town! We can't wait to attend the many local events, including the Taste of Newnan, 4th of July Parade, and Coweta County Farmers Market. I'm a huge fan of the Georgia Bulldogs, Atlanta Falcons, and Atlanta Braves. I am also a supporter and season ticket holder for the Atlanta United! Personally, I work with the Newnan-Coweta Chamber of Commerce and Habitat for Humanity.
Nick Kuglar is here for you in Newnan, GA!
Office Hours
Please call or email your local GEICO Office to learn more as office hours may vary.
Monday: 9:00 AM - 7:00 PM
Tuesday: 9:00 AM - 7:00 PM
Wednesday: 9:00 AM - 7:00 PM
Thursday: 9:00 AM - 7:00 PM
Friday: 9:00 AM - 7:00 PM
Saturday: 11:00 AM - 3:00 PM
Sunday: Closed