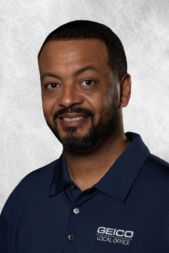 Meet Sheldon Whittaker, your local GEICO insurance agent.
Hi! My name is Sheldon Whittaker, and I have been a resident of Stone Mountain for 15 years. I started at GEICO as a member of the military sales team at the Virginia Beach office. After multiple career advancement opportunities, I knew that bringing GEICO insurance to my community was the next step in my career path. I'm thrilled to open a local office in Stone Mountain!
If you prefer to do business in Hindi, my office has bilingual associates available to help!
Learn about Sheldon Whittaker, your GEICO insurance agent in Stone Mountain, Georgia.
My agents and I strive to provide the best possible advice to protect policyholders' assets. We want everyone who contacts our office to have peace of mind and save as much money as possible on their coverage.
I have a ton of hobbies! I have been playing musical instruments since middle school and love all genres of music. I love traveling too – especially places with great beaches and great food. I also enjoy reading biographies of successful people; it helps me understand their drive and gives me insight into thought processes on how to overcome problems.
When it comes to relieving stress, I love to bowl, even though I don't play often. I also love sports, especially watching college football and Atlanta Braves baseball games.
Sheldon Whittaker understands more than just insurance in Stone Mountain, Georgia.
Our office specializes in helping our policyholders save money on car insurance, and we can also help you find additional coverage. Do you own a boat or personal watercraft? Make sure you've got the right coverage before you head out on Lake Lanier or the Chattahoochee River. We can help! If you camp at Stone Mountain Park, we could help you find coverage for your RV, too. We can also bundle your auto coverage with homeowners insurance through the GEICO Insurance Agency — so ask us how you could save!
Sheldon Whittaker and his team are involved in the Stone Mountain community.
There's always plenty to do in the Atlanta area! My team and I look forward to attending the Laser Show at Stone Mountain Park, events at Snow Mountain, the Dogwood Festival, the Sweet Auburn Festival, and Taste of Atlanta.
Sheldon Whittaker is here for you in Stone Mountain, Georgia!
Office Hours
Please call or email your local GEICO Office to learn more as office hours may vary.
Monday: 9:00 AM - 7:00 PM
Tuesday: 9:00 AM - 7:00 PM
Wednesday: 9:00 AM - 7:00 PM
Thursday: 9:00 AM - 7:00 PM
Friday: 9:00 AM - 7:00 PM
Saturday: 10:00 AM - 6:00 PM
Sunday: Closed