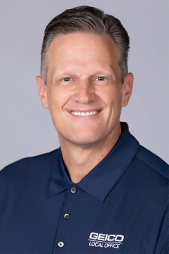 James Buckman is your Overland Park GEICO Insurance Agent.
My name is James Buckman, and I have been serving the Overland Park and surrounding areas throughout Kansas and the Kansas City Metro Area since 2008. Prior to joining the GEICO team, I spent two decades in various sports marketing capacities. I learned how wonderful GEICO is by interacting with the company while working for a local NFL team. I can be found nearly every day driving around the Kansas City Metropolitan Area in my local GEICO truck, visiting area auto dealers and apartment complexes.
Reach out to the Overland Park team for more than just car insurance.
Our office is located in the midst of several beautiful, new apartment complexes, so we specialize in bundling auto insurance with renters and GEICO Identity Protection policies. We can also help insure your home, motorcycle, RV, ATV, and more! The agents in our office love not only helping customers get the best rates on their insurance, but also helping them understand how their insurance works and what the best plan is for their unique needs.
Visit James and his team of GEICO Insurance Agents.
Our office is conveniently located on the north side of 95th Street, directly across from Oak Park Mall's main entrance.
Office Hours
Please call or email your local GEICO Office to learn more as office hours may vary.
Monday: 9:00 AM - 6:00 PM
Tuesday: 9:00 AM - 6:00 PM
Wednesday: 9:00 AM - 6:00 PM
Thursday: 9:00 AM - 6:00 PM
Friday: 9:00 AM - 6:00 PM
Saturday: 10:00 AM - 2:00 PM
Sunday: Closed