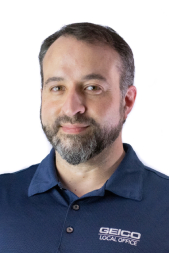 Meet Allen Boudreaux, your local GEICO insurance agent.
Hi! My name is Allen Boudreaux. I've been on the Westbank for over 10 years, but I've lived my whole life in the New Orleans (NOLA) metro area. Insurance runs in my family - I was first licensed when I was 19 and worked as an agent with my father, who's the local GEICO agent for NOLA. After a long career in marketing, I came back to the insurance industry to help my brother-in-law open the new local GEICO office in Covington. Now, I am thrilled to open own office in Harvey!
Learn about Allen Boudreaux, your GEICO insurance agent in Harvey, Louisiana.
Here in Louisiana, natural disasters can be an ever-present threat. By selling insurance for GEICO, I can contribute to protecting and strengthening my community. I am motivated every day by knowing that every new policy helps make our community a better, safer place for my neighbors.
Outside of work, I enjoy long-exposure night photography. Capturing local scenes and NOLA's amazing architecture is my passion. I also love food! I'm a big fan of local Cajun and Creole cooking. Some of my favorites are gumbo, etouffee, crawfish boils, and other uniquely-NOLA dishes. I also love spending time with my family, painting, reading, and traveling.
You might catch me at a New Orleans Saints game or at the New Orleans Jazz and Heritage Festival. And I'm a member of two Mardi Gras krewes!
Allen Boudreaux understands more than just insurance in Harvey, Louisiana.
Our office specializes in helping our policyholders save money on car insurance, but we can also help you find additional coverage. Are you stationed at the Naval Air Station Joint Reserve Base New Orleans or Marine Corps Support Facility NOLA? Let us know - you could get a special Military discount! Do you own a boat or personal watercraft? Make sure you've got the right coverage before you head out on the Mississippi River, Lake Pontchartrain, or the Gulf of Mexico. We can help! If you hunt, fish, or camp near Bayou Segnette State Park, let us help cover your RV. We can also bundle your auto coverage with homeowners insurance through the GEICO Insurance Agency - so ask us how you could save!
Allen Boudreaux and his team are involved in the Harvey community.
My team and I look forward to attending several community events, such as Mardi Gras parades, New Orleans Saints games, the New Orleans Jazz Festival, GretnaFest, and the Bridge City Gumbo Festival. Personally, I work with Confetti Kids, Inc. as the Vice President of the Board. I've been a Board member since 2015.
Allen Boudreaux is here for you in Harvey, Louisiana!
Office Hours
Please call or email your local GEICO Office to learn more as office hours may vary.
Monday: 9:00 AM - 7:00 PM
Tuesday: 9:00 AM - 7:00 PM
Wednesday: 9:00 AM - 7:00 PM
Thursday: 9:00 AM - 7:00 PM
Friday: 9:00 AM - 7:00 PM
Saturday: 10:00 AM - 5:00 PM
Sunday: Closed