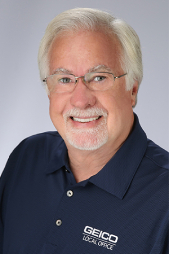 Allen Boudreaux is your local GEICO Insurance Agent in Metairie.
Hello! I'm Allen Boudreaux and I have been serving the New Orleans community as your local GEICO Insurance Agent since 2008. My office serves the Greater New Orleans area - from Plaquemines and St. Bernard Parish to Kenner and the River Region, and even down the bayou to Terrebonne and Lafourche. Whether you're in Mid-city or Marrero, Westwego or Algiers, Chalmette or Harahan, Houma or Harvey, our licensed professional agents are here to serve you.
I'm a New Orleans native - I grew up in Lakeview and have lived in Metairie for over 40 years. Before opening the GEICO local office in Metairie, I owned a large independent insurance agency here in Louisiana - so you can see I'm dedicated to helping protect and improve our community. My office is active throughout the region, proudly supporting many charities, playgrounds, youth sports leagues, and other local groups.
Your Metairie insurance agents know more than car insurance.
Although we specialize in auto insurance, we are happy to help you with homeowners, renters, flood, umbrella, and a variety of other insurance needs. If you enjoy our Sportsman's Paradise and the many recreational opportunities our area offers, our team of licensed agents can find the right coverage at the right price for your boat, motorcycle, ATV, RV, and other sport and leisure vehicles.
We have several full-time Spanish-speaking agents in the Metairie office available to help you.
En nuestra agencia de seguro en Metairie tenemos representantes que hablan español. Le podemos ayudar con seguros de auto, casa, inquilinos, botes e inundación además de brindarle un excelente servicio.
Come to our Metairie office.
We love meeting our customers, so our office is easy to find on the lake side of Veterans Memorial Boulevard between Cleary Avenue and Clearview Parkway. Please come by and say hello - my staff and I look forward to meeting you soon!
Office Hours
GEICO is here to help during the Coronavirus outbreak.
Please call or email your local GEICO Office to learn more as office hours may vary.
GEICO está aquí para ayudarte durante la expansión del coronavirus.
Debido a que el horario de atención puede variar, por favor, contacta a tu agente local de GEICO para recibir más información.
Monday: 9:00 AM - 5:00 PM
Tuesday: 9:00 AM - 5:00 PM
Wednesday: 9:00 AM - 5:00 PM
Thursday: 9:00 AM - 5:00 PM
Friday: 9:00 AM - 5:00 PM
Saturday: 10:00 AM - 2:00 PM
Sunday: Closed