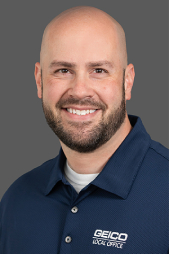 Get To Know Your Hamilton Insurance agent.
Hi! I'm Chris Cline. My family and I call the Garden State our home, but after growing up in Central Jersey, my career at GEICO actually began in New York in 2003. The opportunity arose for me to return to New Jersey in 2007 and open the first local GEICO office in the state, which I was thrilled to do.
My team serves the entire Mercer County area. We stand ready to help the residents of the greater Mercer County area with more than just auto insurance. We can help with homeowners, renters, motorcycle, boat and RV insurance—and much more.
We have several full-time Spanish-speaking agents in the office! Call or visit us today to see how we can help you save on a variety of personal insurance products!
Our Local GEICO Team In The Community
There's a good chance you've seen the gecko or our GEICO tent at local events in Mercer County. My team and I love to get involved in the community. We sponsor and support a wide range of local events each and every year. We gravitate towards helping local charities and non-profits such as Ryan's Quest, Eden Autism, the Sunshine Foundation and the Hamilton-area YMCA. We're also always ready to support our local schools and youth sports teams.
Like us on Facebook to stay informed about everything we're doing locally! Whether we're amongst the crowds at a Trenton Thunder game, alongside other vendors at a concert at Mercer County Park, or just there to donate some goods at a 5k for your favorite cause, please stop by the next time you see us and say hi!
Visit Chris and his team.
We are centrally located within Mercer County, accessible by all major area roads (Routes 1, 95, 130, 195, and 295). Our address is 825 Route 33 in Hamilton, just ¾ of a mile east of Quakerbridge Road.
Office Hours
Please call or email your local GEICO Office to learn more as office hours may vary.
Monday: 9:00 AM - 5:30 PM
Tuesday: 9:00 AM - 5:30 PM
Wednesday: 9:00 AM - 5:30 PM
Thursday: 9:00 AM - 5:30 PM
Friday: 9:00 AM - 5:30 PM
Saturday: 10:00 AM - 5:00 PM
Sunday: Closed