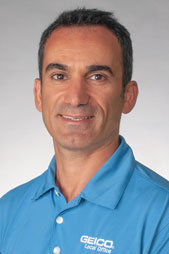 Benjamin Isik is your insurance agent in Rockland County, NY.
Hello, I'm Benjamin Isik, your GEICO insurance agent in Rockland County, NY and I am excited to be here for you! As an attorney with over 18 years of experience, I've dealt with many personal injury and property damage cases, so I can provide a lot of insight about those types of coverage. I've seen many situations and outcomes, so I have the skills and experience to help you navigate your coverage needs. Additionally, we have full-time Spanish and Korean speaking staff in the GEICO Nanuet office available to help you.
Our neighbors and friends mean a great deal to me. That's why I've been involved in community-based activities and have served on several charitable boards. You might see my team sponsoring local events in the area, so if you ever see us, make sure to swing by and say hello!
Benjamin understands Rockland County, NY Military and federal employees.
We are privileged to have the Military Academy of West Point located just 29 miles from our office. GEICO offers a special discount for Military and federal employees, as well as flexible payment options to help make life just a little bit easier. We are always honored to serve the insurance needs of those who serve us.
Stop by the Rockland County, NY GEICO office.
We are conveniently located at 197 W Route 59, just off Exit 14 of the New York State Thruway between the Palisades and Garden State Parkways. Please stop in and see us!
Office Hours
Please call or email your local GEICO Office to learn more as office hours may vary.
Monday: 9:00 AM - 7:00 PM
Tuesday: 9:00 AM - 7:00 PM
Wednesday: 9:00 AM - 7:00 PM
Thursday: 9:00 AM - 7:00 PM
Friday: 9:00 AM - 6:00 PM
Saturday: 10:00 AM - 5:00 PM
Sunday: Closed