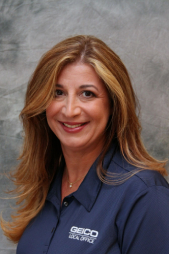 Meet Melissa Matassa, your local GEICO insurance agent.
Hi! My name is Melissa Matassa. I have been in the insurance field for over 30 years, and I am extremely passionate in assisting customers with their insurance needs. My team are licensed professional agents who are committed to providing excellent customer service coupled with expert insurance advice.
Learn about Melissa Matassa, your GEICO insurance agent in Lynbrook, New York.
While in High School I began working at GEICO corporate as a telephone operator and later transitioned to the Sales Division where I had the opportunity to assist customers with their auto, home, and boat insurance needs. These positions allowed me to build tremendous knowledge around the insurance industry and GEICO as a company. Upon completing college, I decided to continue my career with GEICO, where I later held various management positions with the Underwriting and Human Resources Departments.
When I'm not in the office, I enjoy spending time with my family; participating in softball and bowling league; and watching hockey (go Rangers!). My family has partaken in MSG's Rangers Fan Cave, showcasing our basement during intermissions. I also enjoy vacationing annually on Long Island, in Montauk with my family and friends.
Melissa Matassa understands more than just insurance in Lynbrook.
One of my team's primary goals is to help our policyholders save money on car insurance, but our expertise doesn't stop there. If you spend time on the surrounding bodies of water, we may be able to help insure your boat or personal watercraft! If you like to camp anywhere in New York State, ask us how we can help insure your RV. We can also bundle your car insurance with homeowner's insurance through the GEICO Insurance Agency - so don't forget to ask us about GEICO's Multi-Policy Discount.
Melissa Matassa and her team are involved in the Lynbrook community.
I have been involved in community my whole life by volunteering as a high school student, joining the PTA, and helping at local community fund raisers. I plan to continue this as a local business owner with my team. I look forward working with the community through the Lynbrook Chamber of Commerce and attending local street fairs, concerts, and parades. Some of our favorites are the Memorial Day, Labor Day, and Veteran's Day parades as well as the Strawberry Festival.
Melissa Matassa is here for you in Lynbrook, New York!
Office Hours
Please call or email your local GEICO Office to learn more as office hours may vary.
Monday: 9:00 AM - 7:00 PM
Tuesday: 9:00 AM - 7:00 PM
Wednesday: 9:00 AM - 7:00 PM
Thursday: 9:00 AM - 7:00 PM
Friday: 9:00 AM - 7:00 PM
Saturday: 9:00 AM - 5:00 PM
Sunday: Closed