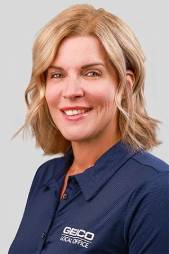 Meet Tara Morgan-Barreiro, your insurance agent in Concord, NC.
Hi! I'm Tara Morgan-Barreiro and I have been an insurance agent for over 7 years. Prior to joining GEICO in Concord, I was an owner in an award-winning agency in New Jersey alongside my husband Anthony. Being NASCAR fans, we were drawn to the beautiful Concord/Charlotte area, and our office is actually located right down the street from the Charlotte Speedway.
My team loves to get involved in our community. We sponsor and support a wide range of local events for our local law enforcement, fire departments, military, and educators. Our volunteer work includes Habitat for Humanity and any event involving the well-being of animals. When I'm not in the office, you can find me enjoying the outdoors or traveling. Fun fact: I am also a Certified Spinning Instructor.
The Concord GEICO office also has full-time Spanish speaking staff available.
We proudly serve the cities and towns of Concord, Charlotte, Kannapolis, Salisbury, Davidson, Mooresville, Harrisburg, Albermarle and Mint Hill.
Tara's team in Concord, NC knows more than car insurance.
You can get help with much more than just auto insurance. For those who enjoy the outdoors, my team is ready to help with RV and motorcycle insurance. If you enjoy spending time on any of the beautiful lakes in the Charlotte area, we can help insure your boat or personal watercraft, too! We can even help you with homeowners insurance, condominium insurance, and renters insurance.
We always look forward to helping you and ensuring you get the right coverage at the right price. Between our many discounts and coverage options, we're committed to finding ways to save you money. Did you know GEICO offers a special discount for military and government employees? Stop in our office today to review all the insurance discounts you could be eligible for.
Stop by the Concord, NC office.
We are conveniently located at 7741 Gateway Lane NW. We're just steps away from the famous Concord Mills Shopping Mall and the Charlotte Speedway. We'd love to meet you! We're are in the office Mon-Fri 9AM to 8PM, Sat 10AM to 5PM. Come by and say hello!
Office Hours
Please call or email your local GEICO Office to learn more as office hours may vary.
Monday: 9:00 AM - 8:00 PM
Tuesday: 9:00 AM - 8:00 PM
Wednesday: 9:00 AM - 8:00 PM
Thursday: 9:00 AM - 8:00 PM
Friday: 9:00 AM - 8:00 PM
Saturday: 10:00 AM - 5:00 PM
Sunday: Closed