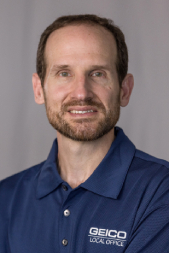 Meet Brad Peskoe, your local GEICO insurance agent in Burlington, North Carolina.
Hi! My name is Brad Peskoe, and I am excited to serve you in Burlington! I graduated from the University of Georgia with a degree in risk management and insurance. I went on to earn my MBA from Mercer University. I love my job so much that I have been with GEICO for over 20 years!
Learn about Brad Peskoe, your GEICO insurance agent in Burlington, North Carolina.
You may not immediately think of auto or home insurance when you think of necessities. Having these products is essential, though, to protect your investments! That's why I'm driven to ensure our policyholders are protected, and at a great price.
In my free time I enjoy spending time with my wife and two daughters. I love spending a day outside running or playing tennis. As an avid college sports fan, I'm excited to be so close to the many colleges and universities in the area.
Brad Peskoe understands more than just insurance in Burlington, North Carolina.
Our expertise doesn't stop with car insurance. If you enjoy camping at Hidden Lake Campgrounds or Jones Station RV Park and Campgrounds, be sure to get a quote with us for a great rate on RV coverage. Do you own a boat or personal watercraft? We can help with the right coverage before you head out on Lake Cammack or Hyco Lake! We can also help bundle your auto coverage with homeowners insurance through the GEICO Insurance Agency — so don't forget to ask us about GEICO's bundling discount.
Brad Peskoe and his team are involved in the Burlington community.
Our city of Burlington isn't far from the big cities of Greensboro and Raleigh-Durham. We are a beautiful community nestled between the Appalachian Mountains and the Atlantic Ocean. There are many recreational activities and cultural attractions to explore, as well as shopping and fine dining! My team and I look forward to supporting and attending the many local events in the area.
Brad Peskoe is here for you in Burlington, North Carolina!
Office Hours
Please call or email your local GEICO Office to learn more as office hours may vary.
Monday: 9:00 AM - 6:00 PM
Tuesday: 9:00 AM - 6:00 PM
Wednesday: 9:00 AM - 6:00 PM
Thursday: 9:00 AM - 6:00 PM
Friday: 9:00 AM - 6:00 PM
Saturday: 9:00 AM - 2:00 PM
Sunday: Closed