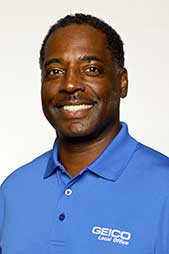 Get to know your Fayetteville insurance agent, Caesar Blue.
Hi, my name is Caesar Blue. I have been a GEICO Insurance Agent since 2004, serving the insurance needs of customers all over Fayetteville, including Dunn, Fort Bragg, Hope Mills, and many more. Prior to working for GEICO, I worked as an independent insurance agent for seven years, all of which came after retiring from my 20-year service in the US Army. I am an active member of the association of US Army, American Legion, and the local Chamber of Commerce. Our office specializes in serving military, government, and major university markets.
Caesar's team is involved in the community.
It's very likely that you'll find our GEICO tent within the community at the Fayetteville blood drive, Fort Bragg USO events, Fayetteville Dogwood festival, the Armed Services YMCA of Fort Bragg and the NC Realtor association events. You may also run into our team at the Fort Bragg Fair, Fayetteville Swamp Dog Baseball games, and the Southern Professional Hockey League's Fayetteville Fire Ants' games. We sponsor four major commands on Fort Bragg for the NCO/Soldier of the Year competition and XVIII Airborne Corps Warrior leadership course graduations.
Find our Fayetteville office.
We are conveniently located in the Cliffdale Park Building off Cliffdale Road, in the Westover community.
Office Hours
Please call or email your local GEICO Office to learn more as office hours may vary.
Monday: 9:00 AM - 5:00 PM
Tuesday: 9:00 AM - 5:00 PM
Wednesday: 9:00 AM - 5:00 PM
Thursday: 9:00 AM - 5:00 PM
Friday: 9:00 AM - 5:00 PM
Saturday: 10:30 AM - 1:30 PM
Sunday: Closed