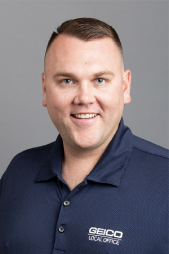 Meet Cameron Martin, your local GEICO insurance agent.
Hi! My name is Cameron Martin, and I have 8 years of experience in the insurance industry. After graduating from college, I began my career as an insurance agent working for a family member at the GEICO office in Morgantown, West Virginia. I loved the experience so much that I decided to open my own GEICO Local Office here in Morrisville, NC!
Learn about Cameron Martin, your GEICO insurance agent in Morrisville, North Carolina.
Insurance can be summarized in one word: protection. My team and I enjoy working with our policyholders to help them learn about different types of coverage that they may need to protect themselves and their loved ones. Providing peace of mind for my clients is what drives me every day!
I'm a father of three, and when I'm not in the office, I'm spending time with my wife and kids either on our boat, or traveling. I also thoroughly enjoy landscaping and yard work! When I'm not busy spending time with my family or toiling in the backyard, you'll find me on the golf course! I'm also an avid fan of the local collegiate sports teams including University of North Carolina basketball and football, as well as USA Baseball and PGA Tour events at the Prestonwood Country Club, here in Cary.
Cameron Martin understands more than just car insurance in Morrisville.
Our expertise isn't limited to just car insurance. If you like to spend time on Jordan Lake, we can help insure your boat or personal watercraft! Make sure you've got the right RV coverage before you head out to nearby William B. Umstead State Park. We can help! Want even more savings? We can help bundle your auto coverage with homeowners insurance through the GEICO Insurance Agency - so don't forget to ask us about GEICO's Multi-Policy Discount!
Cameron Martin and his team are involved in the Morrisville community.
There are several reasons we think Forbes ranked Cary as one of the best places to raise a family in the United States! Cary is centrally located amongst the top universities in North Carolina and is also home to the country's USA Baseball Complex, which offers a fun way to celebrate America's pastime with your family. Local events that my team and I enjoy attending include the Cary Road Race, the Independence Day Celebration, and the Martin Luther King Jr. Dreamfest.
Cameron Martin is here for you in Morrisville, North Carolina!
Office Hours
Please call or email your local GEICO Office to learn more as office hours may vary.
Monday: 8:30 AM - 7:00 PM
Tuesday: 8:30 AM - 7:00 PM
Wednesday: 8:30 AM - 7:00 PM
Thursday: 8:30 AM - 7:00 PM
Friday: 8:30 AM - 7:00 PM
Saturday: 9:00 AM - 4:00 PM
Sunday: Closed