Austin Insurance Agents
Your Local GEICO Insurance Agents In Austin
Click the agent name or photo for more information.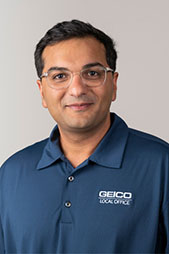 2200 E Palm Valley Blvd, Suite 120
Round Rock, TX 78665
There are local GEICO agents in the Austin area!
Local GEICO agents are in your area to help you save on your car insurance in Austin. So when you insure your vehicle with GEICO, you'll work with someone who not only knows insurance, but knows about Austin.
Nuestros agentes de seguro en Austin hablan español. Ellos te daránun servicio personalizado y te podrían ayudar a encontrar una excelente cobertura a buen precio. ¡No dudes en contactarlos hoy!
Like you, your local GEICO agents know Austin is more than just "The Live Music Capital of the World." They recognize the culture that comes from a top-notch ballet and world-class museums. They know where to find the best breakfast tacos, and did we mention barbecue? You have to insure your vehicle—why not do it with someone who knows and understands the Austin area as well as you do?
Contact your local Austin GEICO agent for a free quote today. You could save hundreds on your car insurance and have the chance to enjoy all the benefits that come from being a GEICO policyholder—close to home. Plus, we could help you get a homeowners or renters policy through the GEICO Insurance Agency. Love the open road? Ask us about motorcycle, RV and ATV insurance, too!
If you're a Military member for federal employee, be sure to mention that when you get a quote. You could be eligible for a special discount. Also, if you're part of one of the 800 professional, medical, educational or alumni organizations that have teamed up with GEICO, such as Texas State University and UT Austin you could receive a special discount, too.
Graves Erskine is in Austin on the corner of Burnet Road and Kramer Lane.
Xzavier Haywood is in Austin on South Congress Avenue.
Sameer Chande is located on E Palm Valley Blvd.