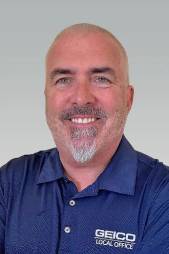 Meet Rob Geiger, your local GEICO insurance agent.
Hi! My name is Rob Geiger and I grew up just down the road in Schertz before attending the University of Houston. I recently moved back to the Hill Country, and am excited to open a GEICO Local Office right here in historic San Marcos!
Prior to this adventure, I worked in the racing industry for 25 years as a GEICO contractor handling public relations for a variety of GEICO race teams. When I'm not watching races, I look forward to helping educate my clients on their insurance needs while saving them money. If Spanish is your preferred language, I have full-time staff available to assist you.
Learn about Rob Geiger, your GEICO insurance agent in San Marcos, Texas.
Insurance is something everyone needs. My team and I want to make insurance simple for our clients to understand, and give them the peace of mind that they have the right coverage at an affordable rate.
I am an avid motorcycle rider! I own an Indian Chieftain Elite and usually put about 20,000 miles a year on my bike. I also taught my son to ride and look forward to spending time with him out on the road. When I'm not out riding, I love boating, fishing, and tubing down the Comal and Guadalupe Rivers, as well as hiking on the Mission Trail.
My team and I look forward to Wurstfest in New Braunfels every year! Personally, I've been going since I was a kid. I also enjoy attending sporting events at my alma maters, University of Houston and Samuel Clemens High School in Schertz.
Rob Geiger understands more than just insurance in San Marcos.
My team could help you save money on car insurance, but that's not all. Do you serve at Randolph Air Force Base? You may benefit from a special Military discount! Before you head out on Canyon Lake, Comal River or Guadalupe River, make sure you have the right coverage! We can help you insure your boat or personal watercraft. Want even more savings? We can also help bundle your auto coverage with homeowners insurance through the GEICO Insurance Agency - so don't forget to ask us about GEICO's Multi-Policy Discount!
Rob Geiger and his team are involved in the San Marcos community.
There's so much to do in the gateway to Texas Hill Country! Just like many of the locals, my team and I attend many events at Texas State University, and of course, local high school football games. Personally, I work with charities including Addi's Faith, Dan Pastorini Charities, Be An Angel, and Shirley's Kids. I'm also involved with the San Marcos Area Chamber of Commerce.
Rob Geiger is here for you in San Marcos, Texas!
Office Hours
Please call or email your local GEICO Office to learn more as office hours may vary.
Monday: 9:00 AM - 7:00 PM
Tuesday: 9:00 AM - 7:00 PM
Wednesday: 9:00 AM - 7:00 PM
Thursday: 9:00 AM - 7:00 PM
Friday: 9:00 AM - 7:00 PM
Saturday: 10:00 AM - 4:00 PM
Sunday: Closed