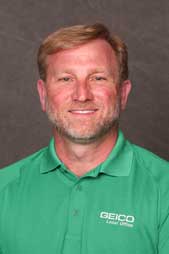 Learn how John's team in Harrisonburg can help you with insurance.
Hi! I'm John Edwards, and I'm happy to be your GEICO Insurance Agent. My Harrisonburg office has been open since 2010 and serves the Shenandoah Valley and central Virginia. I love exploring the mountain ranges surrounding the Shenandoah Valley as much as helping people protect what is important to them. My office can help you get insurance coverage for everything from your auto, home, motorcycle, ATV, or RV. We also have a full-time Spanish speaking agent on staff.
En nuestra agencia de seguro en Harrisonburg tenemos representantes que hablan español. Le podemos ayudar con seguros de auto, casa, inquilinos, botes e inundación además de brindarle un excelente servicio.
I enjoy being a part of the Harrisonburg community as an active participant in the Rockingham County Chamber of Commerce, Albemarle County Chamber of Commerce, and the local Rotary Club.
Find the GEICO Harrisonburg office.
We are conveniently located in Harrisonburg on Route 33, just one mile west of Interstate 81. You can find us in the Harbor Freight Building.
Office Hours
GEICO is here to help during the Coronavirus outbreak.
Please call or email your local GEICO Office to learn more as office hours may vary.
GEICO está aquí para ayudarte durante la expansión del coronavirus.
Debido a que el horario de atención puede variar, por favor, contacta a tu agente local de GEICO para recibir más información.
Monday: 9:00 AM - 6:00 PM
Tuesday: 9:00 AM - 6:00 PM
Wednesday: 9:00 AM - 6:00 PM
Thursday: 9:00 AM - 6:00 PM
Friday: 9:00 AM - 6:00 PM
Saturday: 10:00 AM - 4:00 PM
Sunday: Closed